Evergreen has three graduate programs
Master of Environmental Studies (MES)
Master in Teaching (MIT)
Master of Public Administration (MPA)
Links at the left lead to program-specific information.
You may also visit with staff and faculty at an information session.
Graduate studies offers some financial aid and scholarship opportunities.
To contact a member of the program staff, use our staff directory.
For all other things, contact us by email at Graduate Studies or call us: 360-867-6707.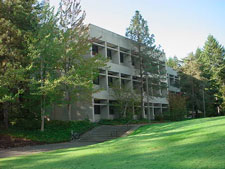 Graduate Studies offices are located at the Evergreen Olympia campus on the third floor of Lab 1, just off Red Square.
Note: many of our links require the free Adobe Reader to view and print.