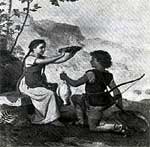 What's Love Got To Do With It?
Fall & Winter 2002-2003
Legislative Hearings on Thursday will be in L2127 (9-11) and L4004 (12:30-2:30).
Schedule of conferences with Chuck: this link
Click here for the Legislative Hearings schedule.
Guidelines for self-evaluations, this link. Suggestions for writing a self-evaluation are found here.
The Final (Potluck) will be on Friday, March 14, following the last two Legislative Hearings. Place to be announced.
Unless otherwise noted, web-x postings are due, as usual, on the evening before the Monday and Thursday book seminars, with responses to comments due the next morning.
WEEK II, JANUARY 13-17
Monday
DUE BEFORE LECTURE: Two copies of a statement of your plans for the "legislative hearings" project. Your statement must identify the topic you will study, the question(s) you will address, at least two competing answers you will consider, and the bearing these have on some aspect of public policy as it affects marriage, family, children, sex or gender relations.
Wednesday
Post a description of some event witnessed in the course of your field work (in lieu of posting for the Thursday afternoon seminar.) Offer an interpretation of the event that shows relevance to something discussed by Hochschild in The Second Shift.
Friday
DUE BEFORE WORKSHOP: a revision of your final essay from last quarter. Your topic should be unchanged but the thesis should be revised in light of faculty criticism. Use material from your earlier draft and add relevant material from The Way We Never Were. Clarify the organization of the essay.
DUE BEFORE LECTURE: Each LP group hands in both a "yes" and a "no" response to the topic-question(s), with two or more pieces of evidence supporting each answer. Provide citations for evidence and also hand in an annotated bibliography of additional sources to be used.
Post a more focused description of the event you are interpreting, one that reveals the features of the event to be emphasized in your ethnography.
STUDENT CONFERENCES: BRING YOUR FIELD OBSERVATIONS JOURNAL.
STUDENT CONFERENCES: BRING YOUR FIELD OBSERVATIONS JOURNAL.
WEEK VI, FEBRUARY 10-14
Monday
DUE BEFORE LECTURE: Each group or individual presenting legislative testimony turns in an initial draft of their work, including a bilbliography of all sources.
Thursday
DUE BEFORE MORNING SEMINAR: initial draft of Ethnography
Friday
DUE AT BEGINNING OF WORKSHOP: Final draft of legislative testimony
WEEK IX, MARCH 3-7
Monday
Copies of legislative testimony distributed to each hearing panel.
DUE BEFORE MORNING SEMINAR: Hand in final draft of Ethnography
WEEK X, MARCH 10-14
Monday-Thursday
Presentations to the Evergreen Council on CIFPP will be scheduled on each of these days. Attendance at all sessions is mandatory.
Friday
Rough drafts of self-evaluations due at 9am.
EVALUATION WEEK, MARCH 17-21
You are required to have an evaluation conference with your seminar leader. DO NOT MAKE TRAVEL PLANS BEFORE THE END OF THE WEEK, UNLESS YOU HAVE ARRANGED OTHERWISE WITH YOUR SEMINAR LEADER. Talk with your seminar leader if you have any questions about the conference.