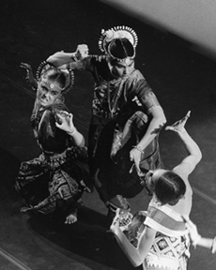 Syllabus for Fall Quarter
*** Fall Readings ***
Unless otherwise noted, the following books are available in the bookstore:
Ramayana, transcreated by P. Lal (get from faculty)
Wayne C. Booth, Gregory G. Colomb, Joseph M. Williams, The Craft of Research
Amartya Sen, The Argumentative Indian: Writings on Indian History, Culture and
Identity.
Bapsi Sidhwa, Cracking India.
Sunil Khilani, The Idea of India. (2nd. ed.)
Ela Bhatt, We are Poor but so Many.
Stuart Corbridge & John Harriss, Reinventing India: Liberalization, Hindu Nationalism
and Popular Democracy.
Aijaz Ahmad, On Communalism and Globalisation: Offensives on the Far Right.
Githa Hariharan, In Times of Siege.
William Dalrymple, City of Djinns: A Year in Delhi.
It is the policy of the college bookstore to return used books in the sixth week and new books in the seventh week. Please plan accordingly. In addition to these books, there are a number of articles in the syllabus that are available on-line or on closed reserve at the library circulation desk. You should print out or make copies of these materials for active reading and seminar discussion.
In addition, we will read and seminar on the twice-monthly current affairs magazine Frontline. It is available in full at www.flonnet.com. The latest version is generally posted on alternate Mondays. An understanding of the issues discussed in Frontline over the ten weeks will give us a good grounding on current issues in India.
*** Class Schedule ***
Tuesday 9:00 – 12:00 Lecture, Film
Tuesday 1:00 -- 4:00 Workshops
Wednesday 9:00 – 12:00 Seminar NEED ROOMS
Ratna:
Jeanne:
Thursday 9:00 – 12:00 Lecture, Film
Thursday l:00 -- 4:00 Workshops