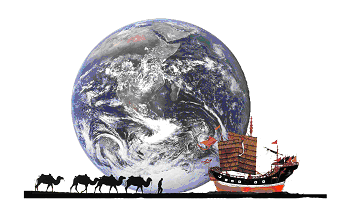 To see Fall 2006 Program Calendar click here
To see Winter 2007 Program Calendar clik here
Meeting times:
Wed, 6-10p, and Sat, Jan. 13, Jan. 27, Feb. 10, Feb. 24, 9a-5pm. Sat, March 10, 1-5pm, Sunday, March 11, 2-5p
Week 1, January 10 and January 13: Identity and Mythology
Introductions, program overview, project groups, computer workshops, study abroad information meeting.
Week 2, Jan. 17: Silk Roads and Historical Identity
Non refundable deposit for study and travel abroad is due on Jan. 17. For China $250, for Turkey/Jordan $500.
Week 3, Jan. 24 and Jan. 27: Silk Roads and Contemporary Identity
Liberal Arts Forum on Identity on Wednesday, Jan. 24, 6-7:30pm
Potluck
Week 4, Jan. 31: Chinese-Arab Connections
Week 5, Feb. 7 and Feb. 10: Immortality and the Arts
Field trip to Portland's Chinese garden and Portland Art Museum
Week 6, Feb.14: Islamic Poetry
Week 7, Feb. 21 and Feb. 24: Chinese Poetry and Chinese Lunar New Year
Week 8, Feb. 28: Turkey and Ottoman Empire
Week 9, March 7, 9, 10, 11: Spring Festival
March 7 - Film Festival on Identity
March 9 - Tai Ji workshop 10 am-5pm
March 10 - Spring Concert at SPSCC - 2pm
March 11 - Community Forum on Identity and Self Cultivation - 2-5pm
Week 10, March 14
End of the quarter student presentations
March 15 - Students depart for China
For more information contact
diamanth@evergreen.edu
simonsc@evergreen.edu