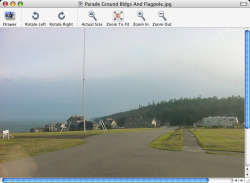 Ft. Flagler Retreat 10/16-10/18 2007

After our tall ship sail in week three, it's pretty clear we are destined to have an amazing retreat in week four. Here are the details:
Work to prepare for the retreat -
1. RE-READ THE PROGRAM COVENANT!
2. Read your seminar book, The Healing Drum. Bring it along.
3. Type up your ideas for your FORMAL WRITING ASSIGNMENT:
• WORKING TITLE (please include some sort of title - you can hone it down later).

• TOPIC: Provide a brief synopsis of the specific topic and/or problem you are addressing. Also indicate why you think this topic is important.

• QUESTION : State your central question as succinctly as you can. Remember that the question sets the agenda for the whole project, so its wording must in some way imply the range of issues you want to explore.
• SIGNIFICANCE OF THE QUESTION: Speculate on how your question relates to the major themes, issues, and questions raised in our program.
4. Before Tuesday, log into Joe McHugh's website at:
http://americanfamilystories.org/ [1]
Listen to some family stories on Joe's website, then contact YOUR family and ask them about family stories. Ask about specific incidents and try to get exactly what happened.
Don't just go from your own memory. Talk to family members and ask questions. Write down what they say in great detail. Here are some possible topics:
War
Loss/Treasure
Death or Near Death
Weather
Eccentric or Favored Relatives
Disinherited Relatives
Holidays
Contact with Archetypes
Technology
Cherished Heirloom
Hard Times
Nick Names (how they got them)
Immigration
Religion
Tolerance
The Seasons
Courtship and Marriage
Food
Music
Disasters

The Supernatural
Illness and Healing
Practical Jokes
On The Farm/Farm Life
Other Mothers/Other Fathers
Photographs
Politics
Storytellers

5. Remember to bring your text ideas for winter quarter (with written titles and connections to the program - why should we read this). If you have a hard copy of the book, or even a review from Amazon.com, please also bring that.
Monday: FOOD COMMITTEE (Stephanie, Jason, Alena, and Dizzy) meet Terry at 9:30 at Com 110 to go shopping. Have a menu planned for dinner Tuesday night, breakfast, lunch, dinner on Wednesday, and breakfast on Thursday. Plus snacks! Beware! - if Cynthia doesn't get enough protein (like 70 grams a day), she becomes vile and vicious. She might even turn into a she-devil!
Tuesday: VAN DRIVERS (Weave, Emily, Dave, Stephanie, and Lucas) meet Terry at 9:00 AM in front of Com 110 to pick up vans.
Everyone else - meet at our regular room - COM 110 - at 10 am. Bring all your gear (including instruments and yoga mats, if you want them) and be ready to load up. Don't forget your lunch for Tuesday!!
CONFUSED? STILL HAVE QUESTIONS? SOMEONE ELSE PROBABLY DOES, TOO. E-MAIL TERRY OR CYNTHIA SO WE CAN CLARIFY!