The Adventures of Ozzie and Harriet
From fifties
[edit] The Adventures of Ozzie and Harriet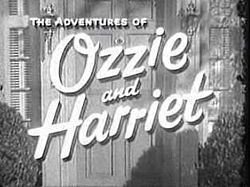 1952-1966
"Situation comedy from a real American family: The Nelsons." - ABC (4)
"We're truly a family project. The program is entirely on our shoulders." - Ozzie Nelson (6)
[edit]
Main Cast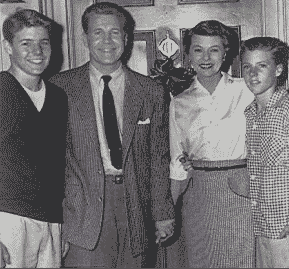 Ozzie Nelson - Self (1952-1966)
Harriet (Hilliard) Nelson - Self (1952-1966)
David Nelson - Self (1952-1966)
Eric "Ricky" Nelson - Self (1952-1966)
(2)
[edit]
Supporting Cast
June (Blair) Mrs. David Nelson - Self (1961-1966)
Kristin (Harmon) Mrs. Ricky Nelson - Self (1964-1666)
"Thorny" Thornberry - Don DeFore (1952-1959)
Darby - Parley Baer (1955-1961)
Joe Randolph - Lyle Talbot(1956-1966)
Clara Randolph - Mary Jane Croft (1956-1966)
Doc Williams - Frank Cady (1954-1965)
Wally - Skip Jones (1957-1966)
Butch Barton - Gordon Jones (1958-1960)
Fred - James Stacy (1958-1964)
Mr. Kelley - Joe Flynn (1960-1962)
Connie Edwards - Constance Harper (1960-1966)
Jack - Jack Wagner (1961-1966)
Ginger - Charlene Salerno (1962-1965)
Dean Hopkins - Ivan Bonar (1964-1966)
Greg - Greg Dawson (1965-1966)
Sean - Sean Morgan (1965-1966)
(2)
[edit]
Plot Synopsis
The television show "The Adventures of Ozzie and Harriet" premiered on ABC in 1952. It followed the lives of the Nelson's, "America's family." Ozzie Nelson was the father. He was even tempered and well mannered. Often the shows plots would center around a piece of wisdom he'd use to solve a problem between the characters. Not once throughout the entire running of the show did Ozzie have a specified job or occupation. He can be seen leaving for work, coming home from work, walking around town, and even dressed in suits and sport coats, yet he is never seen at work. When he was interviewed about this he said "I think it's better that way. It might limit me if I had portray a plumber every week."(6) Ozzie was also the producer of the show and retained creative control until it's end in 1966. Harriet (Hillard) Nelson was the mother. She was rarely pictured anywhere in the house but the kitchen. Always dressed elegantly, Harriet spent her days in beautiful dresses cooking dinner so it would be ready and on the table by five. She often offered advice and guidance to her two younger sons. Although always poised and proper, Harriet was very funny at times, most often when putting Ozzie in his place. David and Ricky were the two sons. Early on story lines surrounded their lives with respect to schoolwork, and club meetings, later developing into girls and fraternities.(9) David and Rick both went to college (on the show, but not in real life) and received law degrees. When they were both married in real life their wives joined the cast of the show. Ricky also gained most of his popularity in the late fifties with his character development as a singer. Story lines often incorporated him singing, or sometimes a song was just tacked on at the end. The premiere of his television singing career was in 1957 when he sang a song by Fats Domino titled, " I'm Walkin'" in the episode, "Ricky the Drummer."
Ricky Nelson singing Fats Domino's "I'm Walkin'" on the episode titled "Ricky the Drummer" in 1957.
[edit]
Cultural Significance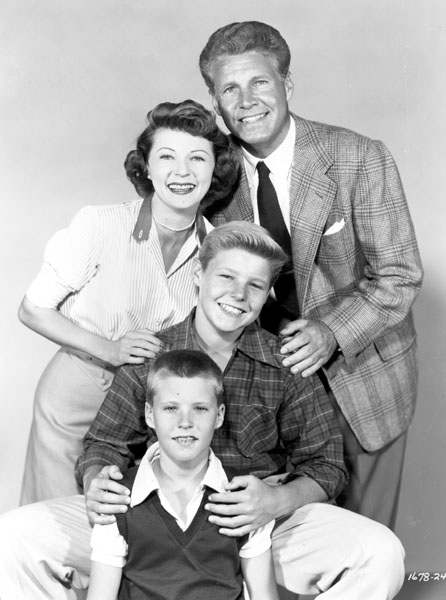 Casted as America's Family, The Nelson's became everyone's brothers, mothers and fathers in the 1950's and 1960's. "There wasn't much to watch on television in those days. The time we did spend in front of the television was spent watching a few shows, one of which was 'The Adventures of Ozzie and Harriet.' I sat around with my siblings for the half hour it was on and that's how we spent that time together. We especially enjoyed the story lines surrounding David and Ricky. We could relate to them. It was a picture into the lives of white middle-class Americans."(8) Because of Ozzie Nelson's negotiating skills before the television show premiered Ozzie and Harriet were the only televised couple to be shown in a double bed together until 1969 when the Brady Bunch was aired. (10) "I remember watching Ozzie and Harriet on television and wishing I had parents like them. They were so smart and understanding of their children. They never drank, and always spoke to their children in the most respectful tone. Harriet was so smart. She had the quickest responses to things Ozzie and the boys would say. I thought David and Ricky were so cool. They were so popular and Rick sang in the band. They were the perfect family." (7) The Nelson's were a snapshot of what every white middle-class American family wished they were. The Adventures of Ozzie and Harriet was a show that provided people with a half hour of calm, collected, mild humor among family time.
[edit]
Bibliography
(1) David Nelson. May 13, 2001. Classic Movie Kids. May 21, 2008. <http://www.classicmoviekids.com/images/n/nelsons/nelsons302.jpg>
(2) The Adventures of Ozzie and Harriet. November 29, 2007. The Museum of Broadcast Communications. May 28, 2008. <http://www.museum.tv/archives/etv/A/htmlA/adventuresof/adventuresof.htm>
(3) The Adventures of Ozzie and Harriet. April 24, 2008. TV Intros.com. May 28, 2008. <http://www.tv-intros.com/o/o.html>
(4) The Adventures of Ozzie and Harriet. April 29, 2008. Geocites.com May 27, 2008. <http://www.geocities.com/alcus2/nelsons.html>
(5) The Adventures of Ozzie and Harriet. May 29, 2008. Sitcoms Online. May 29, 2008. <http://www.sitcomsonline.com/theadventuresofozzieandharriet.html>
(6) Ozzie Nelson. June 2, 2008. TV.com. June 2, 2008. <http://www.tv.com/ozzie-nelson/person/15144/summary.html>
(7) George, Jacquie. Personal Interview. June 1, 2008.
(8) Dinsmore, Kim. Personal Interview. June 2, 2008.
(9) "Chaperone's." The Adventures of Ozzie and Harriet, Disc 2. Writ. Dick Bensfield. Dir. Ozzie Nelson. NBC. 25 Jan. 1961. DVD. Platinum Disc Corp, 2003.
(10) Ozzie and Harriet Nelson. November 29, 2007. The Museum of Broadcast Communications. June 2, 2008. <http://www.museum.tv/archives/etv/N/htmlN/nelsonozzie/nelsonozzie.htm>
(11) The Adventures of Ozzie and Harriet. May 29, 2008. Wikipedia. May 15, 2008. <http://en.wikipedia.org/wiki/The_Adventures_of_Ozzie_and_Harriet>
MLA Format Guide: [1]