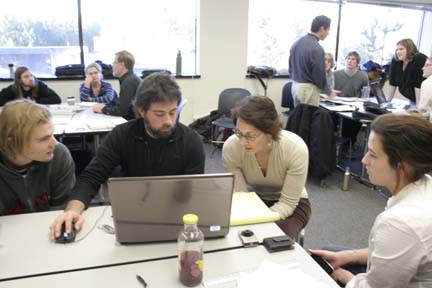 Dec 10th- HKP and consultants come to Evergreen for critiques
On Dec 3rd and again on the 9th HKP made their way down from Mount Vernon to provide words of wisdom and valuable criticism. With a rapidly approaching deadline the students are all hard at work, despite a broken water main that flooded the studio space, leaving our motley crew with vellum under arm, trudging across campus in search of a class room. Thankfully a fully equipped drafting room surfaced, and students split up to accomplish the many tasks that go into designing a site plan. These include:
Elevations, Floor Plan, Storm Water, Demo and more…
Dec 1st- Research Quads Come Together to Form Schematic Design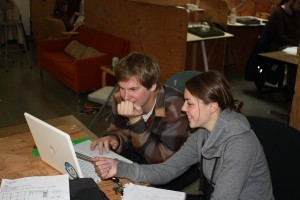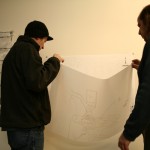 Thanksgiving has come and gone in the blink of an eye. As recent feasts wear off, the students in Sustainable Design are back to work harder than ever. This week is dedicated to quads coming together to finalize their research projects which will be presented to HKP on Thursday the 3rd. With ideas flying through the air, the challenge will be to come up with a product which includes the vision and goals of all 4 students. By next week the whole class comes together to merge these concepts as one schematic design, determining the architecture and systems of the building. May the scheming begin!
Nov 10th- North Cascades Institute with HKP
The North Cascades Institute harbors the importance of the natural world as shelter. The craggy Cascades jut up for miles, providing an icy embrace to the snug campus. HKP took all this cold into account by creating a passive solar design and increased insulation, enhancing heating systems and light. Another top priority was natural ventilation instead of air conditioning which contributes to NCI's philosophy in limiting energy consumption. On top of the energy saved on site, the entire project is constructed with more than 80% FSC-certified wood- an awesome feat.
Throughout the campus it is apparent that the real emphasis is on the landscape, with meandering paths and buildings that nestle right into the mountain side, barely visible from above. The experience was topped off with lots of hearty meals and motivating conversation, a truly fulfilling visit.
Building Reuse (Existing Dining Hall)
Use of Native Plants (seeds propagated from site)
Buildings sited to reduce disturbance to soil and trees
Light Pollution Reduction
Pedestrian-only campus (parking outside)
Soil Infiltration of Stormwater runoff treatment
Recycled Content concrete, steel, drywall, cellulose insulation, decking, tile, toilet partitions
53 % Regionally Manufactured, 57% Regionally Harvested Materials
84% FSC Certified Wood
Salvaged Wood Flooring and Trim
Polished concrete flooring reducing finishes
Construction Waste Management
Nov 2nd– Island Wood
Island Wood is a 6 acre "Environmental Learning Center Campus" on Bainbridge Island. Island Wood consistently implements cutting edge green technology to provide a learning space for the students, mainly ages 10-12, who visit the site to learn about the the various ways we impact our environment.
The Welcome Hall includes a 90 foot board  milled on site a hundred years earlier, when  Island Wood was the largest mill in the  country, that was found and helicoptered  in!

After viewing the welcome room we walked to the art studio, a straw bale structure with a masonry heater and curved walls. Throughout the studio were hints of the outside world, and the art was integrated into the walls.


Next was the living machine. This structure has served as a learning tool for students across the country, and impresses the onlooker aesthetically as well as functionality.

After the living machine we saw the classrooms, which were designed with students in mind. They were all made with different flooring, everything from recycled gym shoes to cork to bamboo. The butterfly roof serves to achieve the maximum amount of sun, while also holding PV( photo-voltaic) panels. These rooms provide insight for the sustainable design class because the new farm building will have soil labs.
The Dining Room had many sustainable elements. From low flush toilets to recycled yogurt container counters in the bathroom to reclaimed wood tables in the dining hall made out of a barn dismantled on site. The students are expected to be fully involved in the kitchen, which involves gathering veggies for pizza, and even weighing out their waste and tallying it up to be recorded weekly.

For the last leg of the trip everyone got to have a quick tour of the outside campus including the garden and an awesome tree house.
Island Wood were wonderful hosts and the program does an excellent job of making sure that their visitors know every little bit counts, especially if you can reuse it and turn it into something with beauty and function.
October 29th– Students present their Solo 3D Design Projects:
After many long hours and sleepless nights the final 3D projects are done. Friday was dedicated to presentations in front of a group of peers with individuals covering everything from design inspiration to heating and cooling. Here is a peek at what a few came up with:
October 26th –New Opportunities for Sustainable Design Students
Two Sustainable Design Companies, Community Rebuilds and Earthen Hand, are looking for able bodies to help create Natural Buildings.
Community Rebuilds, a straw bale affordable housing nonprofit in Moab, UT is in the process of recruiting eight interns for our first ever build this spring! The interns will have the opportunity and responsibility to bulid an entire home, while practicing sustainability in the breathtaking Utah desert
www.communityrebuilds.org or noah@communityrebuilds.org
Earthen Hand, offer educational courses in earthen architecture as well as services in sustainable building design, consultation, and construction. January 9-25, 2010 there will be a workshop on how to build an earthen schoolroom for the Dogon people of Tirelli! 
Topics include: Dogon culture, architecture, agriculture, and archaeology; Dome design, Permaculture Design, Earthbag and Gravel Foundations, Earthbag and Cob Wall systems, Passive Solar, Window placement, Earthen floors, Earthen plasters.
October 8th –Today teams of two presented their research on ten different sustainable study subjects. Topics spanned broadly and included water usage, materials, heating and cooling, and light. These subjects will be developed throughout the year and applied to the design as it matures.
We also had a tour of the SEM II Building where class is held: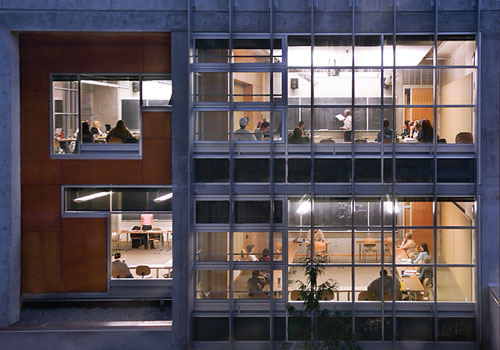 SEM II uses daylighting, natural ventilation, green roofs, low-toxic materials, energy efficiency, and resource-efficient materials (recycled, locally produced, and
long-lived–designed as a 100-year building.)
http://www.evergreen.edu/news/archive/2005/04/greenprojectaward.htmminar II
No responses yet