School Library
From booktorrent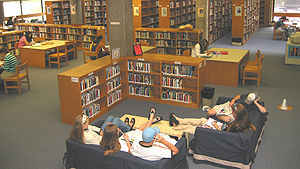 School Library
---
Origins of American School Libraries
---
By 1876, nineteen states appropriated funding for school libraries. Two factors, however, limited the overall success of these early efforts to support school libraries: the lack of library facilities for maintaining the developing collections within the schools and the lack of trained personnel for selecting, organizing, and circulating the collections. The resources were often overseen in small classroom collections by individual teachers, who could not ensure students had access to materials throughout a school; who were not coordinated with other teachers to track library inventories; and who often took materials from one building to another as they changed teaching positions. Meanwhile, the public library movement was developing in the United States, and trained public librarians reached out to address public school needs. Their outreach efforts coincided with the founding in 1876 of the American Library Association (ALA), and at the close of the nineteenth century, the professional voice for school library services to young people often had a public library perspective[2].
School Libraries Today
---
The modern school library media center has a professionally trained school library media specialist who manages a central collection of diverse learning resources to support a school's curriculum, meet individual students' needs and interests, and ensure that young people develop information literacy skills within the school's curriculum. This concept of a learning resource center is both a social development of the twentieth century and an evolution of information exchange[3].
In the past decades, funding for school libraries has become a political project, particularly in the case of the Laura Bush Foundation and it's efforts. As new technologies are generated, updating electrical infrastructure and computers for school libraries consumes a considerable amount of school budgets. And so, the monetary trade-up between investing in more physical materials or more digital means for students to access information becomes problematic, as in most other libraries.
References
---
External Links
---
Related Pages
---