Arts & the Child
Winter/Spring 2001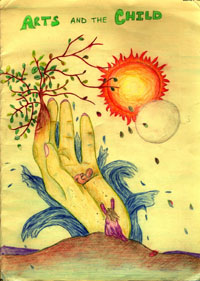 Picture by Wendy Hale



"The living word awakened my soul, Gave it light, hope, joy, set it free."
Helen Keller
8 quarter hours
Hirsh Diamant, ext. 6736
Tue, Thu, 6-10PM, Long House
Special Expenses: Art supplies (approximately $10).
Visit our Web Crossing Class discussion.
See instructions below.
In this program, students explore child development through theoretical readings and practical observations. Students engage in
writing, drawing, painting, theater and puppetry.
During the Spring Quarter, we will focus on stories of Ancient Civilizations and on the transition from legend to history as it
corresponds to curriculum in Grades 3 through 6. (See description in Syllabus.) The students will also spend time working with children
in the community, including those at risk or enrolled in Head Start programs.
During March 20 ? March 31 the students travelled to China where they worked and studied at the Wenzhou Teachers College.
Interested in our trip to China?
Visit our Web Crossing China discussion page to read some of the reports we sent while we were there and send us a message.
Also look for pictures on our China page.
Web Crossing Instructions:
** If you need assistance, please ask the Computer Center Staff for help.
To Register

Click on link above (Web Crossing Class or Web Crossing China)
Click on "Register" which is highlighted at the very top of the screen
Type in your full name, a password of your choosing, and your e-mail address
Click on "OK"
To Insert Your Picture
*from a campus computer only*
Make sure you are logged in (Once you register you will automatically be logged in or you can log in by clicking on the "log in" key at the very top of the page)
Click on "Preferences"
Click on "Your Picture"
Click on "Browse"
Select Desktop
Select Scratch
Find and Click on "Arts and the Child" folder
Find and select the file with your picture (yourname.jpg) ** If your file is not in the folder, please e-mail Meghan at livefreee@yahoo.com immediatly. She will let you know when you can try again.
Click on "Open"
The name of the file with your picture (yourname.jpg) will appear in the box next to the Browse button
Scroll to the bottom of the screen
Click on "Set Preference"
Another screen will appear, scroll to the bottom
Click on "OK"
Smile! Your picture is now on Web Crossing!
To Write a Message

Click on link above (Web Crossing Class or Web Crossing China)
If you are a student in Arts & the Child and have registered in WebX (see instructions above) , Log in, Click "OK" and follow the instructions below
If you are a guest or a student who has not yet registered, Click on "Guest Access" and follow the instructions below
Click on the "Post message" box on the lower portion of the page
Type your name and your message
Click on "Post my message"

To Read Messages

Click on link above (Web Crossing Class or Web Crossing China)
To read all the posted messages, click on the all msgs box in the upper portion of the screen
To read the messages on a previous or next page, click on each box respectively
These boxes will not appear if there are not enough messages to have multiple pages

To Move from One Discussion to the Other
While in Web Crossng

Click on the Arts & the Child heading
Click on the discussion heading (China or Class)
---
Return to Evergreen Home Page

---
Madeby: Meghan Griffin
E-mail:livefreee@yahoo.com
Last modified: 4/11/01