Joan's homepage (click to see Fall MPA Health Policy Concentrations)

HEALTH CARE ADMINISTRATION
Class meets in Lab I, Room 2033 M/W 6-10 PM



Joan Bantz, MPA, RHU an introduction

L3213, 360-867-5095
e-mail: bantzj@evergreen.edu
NOTE: This class welcomes graduate students and a limited enrollment of undergraduates and CDMS students. Please attend the first evening if you are on the wait list to be enrolled. I will assess actual enrollment numbers and attempt to admit as many as feasible.
Health Care Public Administration: Summer 2002
This course surveys the historical, social, economic, and political context of the U.S. health care system. It will provide students an understanding of health politics as a key component of the environment in which the health care administrator must function. Political processes, the legislative, executive and judicial branches of government relations, the public and private sector, and the political roles that selected health professionals assume in the community will be examined.
Major health care policy participation and development are identified within the political and institutional contextual framework. Current and future health administrators, health policy advisors, those wishing to advance health care reform, or those seeking personal advocacy, will acquire broader perspicacity by exploring agencies, policies, organization, administration and development of public and community health programs. The course seeks to provide practical mechanisms to intervene on behalf of programs or institutions.
2 Credit Individual Study Option: Students desiring to earn a total of six credit, and gain more depth, will write a research paper in an approved area of interest.

Course Objectives:
Enhance students' abilities to evaluate the effectiveness, efficiency, and equity of health policies and programs, using rigorous analytical reasoning.
Upon successful completion of the course the student will:
(1) Understand the structure of the political process in the health policy making process in the United States at the State and Federal level.
(2) Clarify the political roles of the legislative, executive and judicial branches of government relative to health policy.
(3) Be familiar with the political role that selected health professionals assume in the community.
(4) Be able to identify and classify the major and minor forces and institutions that shape health care policy.
(5) Understand the steps in the health policy process and how they as administrators may intervene on behalf of their program or institution.
"Nothing in this world, nothing in another's behavior, or even in one's own physical make-up or functioning can poison one's life. Only the mind can blot out the peace of heart and infect a life with darkness, and only the mind can release the heart to grandeur." Arnold R. Beisser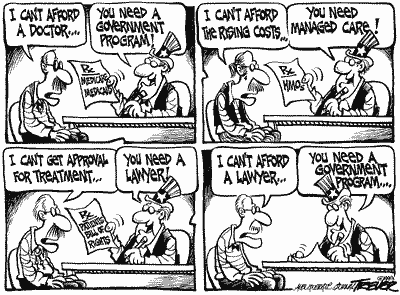 Joan W. Bantz, MPA, RHU
bantzj@evergreen.edu
360-867-5095
L3213
MS L3220
The Sue Crystal Memorial eHealth Institute at Evergreen
---
Return to Evergreen Home Page

---
Made by: jwb
E-mail: bantzj@evergreen.edu
Last modified: 07/19/02