JAPANESE LANGUAGE & CULTURE, 2002-03 [Last updated on 04/15/04]

Welcome to the home page for Evergreen's Japanese Language and Culture Program!
Setsuko Tsutsumi
Yukio Rikiso
Tomoko Ulmer
John Cushing

KURAMA HIMATSURI, October, 2000, © John Cushing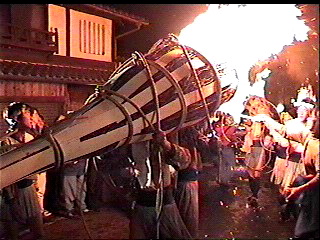 Click picture to load movie. (Patience: It's a big file...)


Fall Quarter Information:
Fall Quarter Program Syllabus
Fall Quarter Seminar Groups
Fall Literary Analysis Paper Assignment

Winter Quarter Information:
Winter Quarter Schedule (UPDATED 01/14/03)
Winter Quarter Seminar Groups (UPDATED 01/07/03)
Winter Quarter Syllabus (UPDATED 03/06/03)

Spring Quarter Information:
Spring Study in Japan [Please be patient: Many images to download...]
Spring Trip Planning Discussion Group (NEW 01/15/03)
Spring Study on Campus (UPDATED 4/10/03)

Japanese Language Tools (UPDATED 03/05/03)
Japanese Film Studies (UPDATED 03/10/03)

Special Event: Donald Keene, February 28, 2003 [NEW 2/17/03]

Miyako Harumi-san: Suki ni natta hito
Japanese Smileys (Emoticons) [NEW 02/05/03]
Problems with this web site? Please contact John Cushing at 360-867-6234 or email me at Evergreen.