Julia's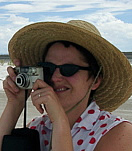 FORBIDDEN POWER ZONE: scopophila and the gaze, deviance, gender, interviews, oral history.
Members: Morgan, Nadia, Will, Melissa B, Ian H and Phoebe.
3-CHIPS: autoethnography, representation, translation, exploration.
Members:Nichole, Ryan, Graham and Jeremy.
UNTITLED: exploring place and memory, identity, people.
Members:Amanda, Tiffani, Michaela, Tom and TaNeil.
FAMILY FEAR PERSPECTIVE: sociological implications of death and fear of death.
Members: Brad, Chloe, Ben, Jeremiah and Randy.

Sally's
LUCIA: essayistic, representation, documentary
Members Part 1:Drew, Francine, Drena, Melissa T.
Part 2:Steffi, Roshni, Chelsea and Bonnie.
BLANK SLATE: psychology of sight/sound, play with perception.
Members:Alex, Jed, Torrey, Tristram, Julian, Dave and Dre.
THE PEANUT BUDDIES: 16mm, psychology, disaster.
Members:Lindsey, Vanessa, Rachel, Amber and Ian W.