Reconciliation: A Process of Human Balance
Fall 2005 - "Reconciliation with reality - awareness of reality"

What brought you to Evergreen?
This program is based in Freire's Pedagogy of the Oppressed. We don't teach Freire's pedagogy, we learn it by building a student-centered environment, a learning community.

<>To build a community around the concept of Reconciliation is the main common task.
- What is Reconcilition?
- What is your idea of an ideal community?
- How is this community?
- How would you like this community to be?
- What are you going to do to make it happen?

Some questions we may discuss:
How should we work here trying to practice a liberatory education?
How do we build a learning community based on hospitality and trust.
What is hospitality? What is trust?

<>What is TESC educational philosophy?
How do we apply TESC educational philosophy in our program?

Who holds the power in the classroom?
Learning from our program web page: using the learning tools (Are you a Master student?) and other links from the front page.
What role does authority play in a student-centered environment?
----------------------------------------------------------------------------------------------------------------------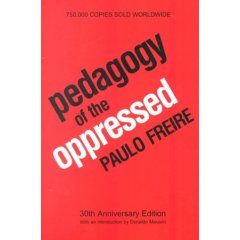 Peter Elbow, in his book "Embracing Contraries" gives a summary of Paulo Freire's liberatory education. Elbow makes the point well that while it is relatively easy to claim a Freireian approach to teaching, it is much harder to actually do it. He summarizes the main points as:
1) The teacher must become a collaborator and ally of the students, not a supervisor.
2) The subject (whatever the name of the course) must be the lives of the students, reflected back to the student as a problem or source of contradiction.
3) The goal must be not just to change the student but to work with the student to change the world.
4) The process must be rational and cognitive, rather than affective, involving critical thinking, problem-posing, looking for contradictions, and using metacognition.


Working together we go through this process. We look for other works in education that could help us in our journey. There are works from Evergreen faculty in the form of books or articles that we study.


On Tuesdays and Thursdays we get together to celebrate our work, to share our findings and to bring our new questions to the community. When we can't make it to class we participate using our class list, our web crossing site, or emailing our faculty.


------------------------------------------------------------------------------------------


Using our learning tools -
The link is: http://academic.evergreen.edu/curricular/reconciliation/reconciliationtools.htm
Are you a Master student?
M.I. survey.

You are invited to attend a workshop on: Curriculum, Instruction and Assessment.

Responding to the Four Questions to build the emerging curriculum.


Students are asked to answer four important educational questions:
What do I plan to do?
How do I plan to do it?
What do I plan to learn?
What difference will it make?
At this point, you may want to share your emerging plan with the rest of us via web crossing or just by sending it to the program list. This way you may find out about similar proposals or receive feedback. This may lead you to learn about Bloom's Taxonomy.


<>Other possibilities include:
- Review your answers to the 4 questions and write up your plan for this quarter.
- Turn in your plans for this fall quarter.
- Each week post a weekly report in web X (even to just say hi), this is highly recommended -
- Make sure everyone learns your name and you learn everybodys' names.
- Study Evergreen's web page and set up a list of conference/talks/workshops you will attend in fall.


Workshop on Bloom's Taxonomy; Critical Thinking, Richard Paul's work; Multiple Intelligences theory; Freire's Pedagogy,
Choice Theory; how do we apply it in class?
Creating the Covenant, reading self-evaluations at TESC, using seminars, instructional strategies, rubrics, self-evaluations, workshops, films.
Learning new Communication tools: web X
Writing across the curriculum.
Diagnose writing skills using Web Crossing training: ask 3 to 5 questions, one by one, the next one is
Computer Literacy: e-mail, web crossing, power point, dreamweaver, photoshop, imovies.
Campus resources: CPJ, KAOS radio, library, communications, CRC...

Suggested readings and materials for the year:
Intelligence Reframed-Gardner-0465026117;
Pedagogy of the Oppressed-Freire-0826412769;
A People's History of US-Zinn-0060937319

A Pedagogy for Liberation-Shor & Freire-0897891058;
We Make the Road by Walking-Horton & Freire-0877227756;
Pedagogy of Hope, by Paulo Freire

Broad and Alien is the World by Ciro Alegria is the reading for students who plan to travel to Peru in Winter;
Other readings:
-The Daughters of the Conquistadors
-Royal Commentaries of the Incas by Garcilaso de la Vega

For the program:
Education for Extinction
Math and Science Accross Cultures by Maurice Bazin, Modesto Ta,ez and the Exploratorioum Teacher Institute.


-----------------------------------------------
Other suggested materials:


The Dancing Wu Li Masters-Zukov-055326382x;
Ethnography A Way of Seeing-0761990917;
Ceremony-Silko-0140086838
The Way to Rainy Mountain-Momaday-0826304362;
Black Elk Speaks-Neihardt-0803261705
Love Medicine-Erdrich-0060975547;
American Indian Women-Bataille-0803260822;
The Mayan Calendar-Calleman-0970755805;
Woman Native Other-Trinh-0253205034;
Coming Into Being-Thompson-0312176929


Peggy McIntosh's White Privilege article.

Current Historical events:
-the Zapatistas in Mexico,
-Israeli-Palestinian relations;
-The FARC in Colombia,
-The Last Decade of XX Century in Peru,
-The Makah Whaling in the NW.
-War against Terrorism, the new wars.

Some popular questions from past classes:
-How the way you were taught History affected your life?
-What is history? Why is history written? Who writes history? What is the reason to study history?
-Workshop: What is Instruction, what is curriculum, what is assessment?
Learning to create a rubric. What is politics? Is education politics?
Faculty driven curriculum and instruction; self-assessment and collaborative-assessment.

Learning from our program web page: using the learning tools and other links from the front page.
Study groups cover main readings and propose group workshops.
Co-learners share their proposed projects using their new technological skills: overhead projector, data projector for power point/imovie
presentations, from hard copies to videos, multimedia and web pages.
Faculty/Guests/Students curriculum and instruction; self-assessment, peer evaluation and collaborative assessment.
Conferences with faculty team happen every time a co-learner asks for it, as a group or individually.