HOW TO TELL THE CORRECT CHAT ROOM FORMAT FROM THE WRONG ONE
There are"wrong" and "correct" chat room formats for our course. Below you see what each looks like.
I. WRONG CHAT ROOM FORMAT
Below is the "wrong" chat room format. It has limited features and does not meet our needs. For one thing, it does not "refresh" automatically; you have to click the Send/Refresh button continuously to keep up with the postings. If this is the format you get when you log in, see the instructions in the simulated discussion below and in the course announcements page for adjustments you need to make.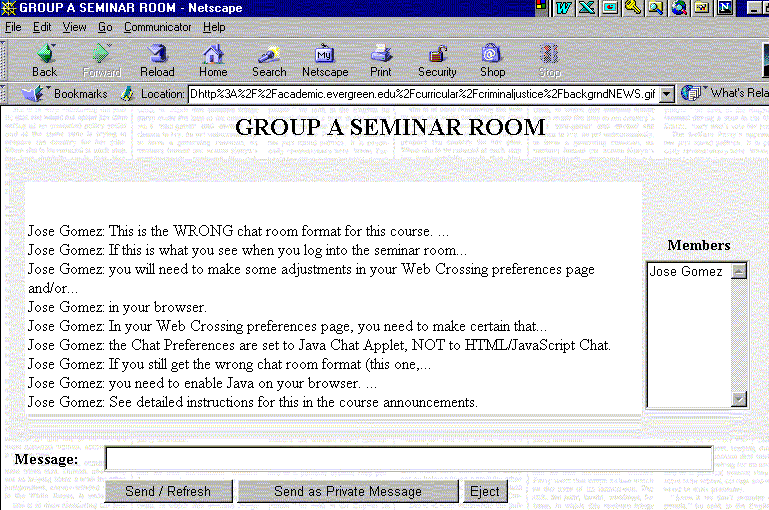 II. CORRECT CHAT ROOM FORMAT:
The following is the correct chat room format for our course. It has all the features that we need to carry on seminars effectively. The most important feature for our purposes is the automatic refreshing of the chat to show all participants' postings as they are uploaded. The drop-down menu has a number of features, including the ability to change text colors as in the example below. When each seminar participant uses a different text color, the discussion is easier to follow. You can discover other optional features on your own.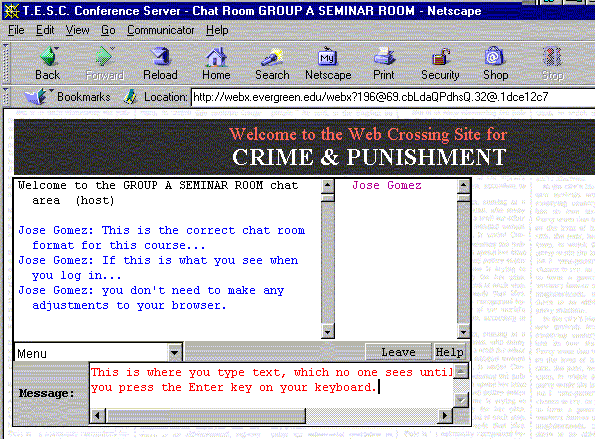 To go back to where you were, click on the BACK button.
To go to the Crime & Punishment home page, click here.
To go to the Crime & Punishment announcements (notices) page, click here.