Generations Rising: Make Art Day
Native Youth Art Workshops, Art Exhibit, Talent Show & Dinner

Saturday March 24, 2007
12:00 p.m. to 7:p.m.
The Evergreen State College Longhouse

12:00 p.m.-4:00 p.m. Art Activity Centers for all ages
4:00 p.m.-7:00 p.m. Dinner and Tribal Youth Talent Show

Art Activity Centers include:
Touch Art
Fish Prints
Indian motif Lunch Sacks
Hand Drums
Felt Art
Walking Sticks
Disc Bead Bracelets
Dream Catchers
Cedar Bark Headbands
Fimo Jewelry
Rawhide Pouches
Leather Pouches
…and many more!

Tribal youth are invited to bring one art piece to be displayed in the glass cases at the Longhouse for six weeks. (Each person is responsible for delivery of art on 3/24/07 and pick up on 5/4/07.)

Volunteers are welcome to help prepare for the event from 9:00 a.m. to 11:00 a.m., as well as help with clean up from 7:00 p.m. to 8:00 p.m.

Sponsored by:
Hazel Pete Institute of Chehalis Basketry
TESC NAS Heritage Program
The Evergreen State College Longhouse Education & Cultural Center

For more information, please contact: Yvonne 360-867-6485 or Tina 360-867-5344

---

February 23rd and March 2nd
The Evergreen State College Longhouse
5-9 p.m.
Cedar Pouch Kit $30.00
Cedar Basket Kit (3"x 3" x 3" approx) $30.00
Sweet Grass Rattle $30.00
Master Weavers include: Yvonne Peterson, Trudy Marcellay, Billie Higheagle

THE BASKET CASE – "…change a student's experience…"

Join the TESC Native American Studies "Heritage: Self-Identity and Ties To The Land" Program in a basket making venture. Several stations will be set up in the longhouse and participants are invited to select a kit to complete during a session.

The event is being held to help participants in the Native American Studies Program at The Evergreen State College raise funds to join the Bridging the Americas, Reuniting the Eagle and the Condor gathering of elders from indigenous tribes of the Americas (www.earthworksforhumanity.org for more information). The gathering will meet at Lake Titicaca in Peru to beckon in the prophesied Age of Peace, 500 years of unity and shared vision between peoples who have, for the last 500 years of Darkness, been scattered and oppressed throughout the Americas. When indigenous people of the Americas once again unite, the prophecy states, it will create worldwide transformation, allowing all of humanity to move from the depths of war into the light of peace. Elders from all tribes and students in Native American Studies programs are being called to participate in this extraordinary, historic event!

Spaghetti Dinner (meat or vegetarian) will be provided.

A silent auction will begin at 5:00 and conclude at 8:00 p.m.


---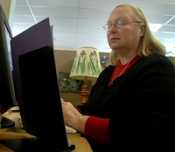 Seniors get a hand in going back to work

Rolf Boone
THE OLYMPIAN

After a long professional career that included running her own day care business and teaching children, JoAnn Minor of Olympia, at age 59, found herself without a job. Minor can't say that she has been a victim of age discrimination, but she admits that finding a job has been hard.
"It was really getting scary," she said, adding that prospective employers have always been complimentary about her skills and experience.
"They like you in the interview, and yet somebody else gets hired," Minor said.
Now, Minor is sprucing up her job skills by participating in a long-standing U.S. Department of Labor program that targets low-income seniors for worker retraining.
The program is known as the Senior Community Service Employment Program, which is currently administered here by Goodwill Industries, known for its discount retail stores.

Government grant
Goodwill Industries received an $8 million DOL grant last fall to administer the program in six regions nationwide, including the Tacoma Goodwill, which received about $1.5 million. Previously, the program here was run by SER National, a Texas-based company.
Tacoma Goodwill oversees the program in 15 counties, including Thurston County, said Paul Spears, the Tacoma Goodwill SCSEP program manager.
To qualify for the program, participants must be 55 or older and meet certain income requirements. For an individual, for example, that income level is $12,225 a year, said Lindsey Pena, a Goodwill coordinator of the program in seven of the 15 counties.
Preference also is given to minorities, veterans, spouses of veterans and those who have limited English-speaking abilities, Pena said.
Since receiving the grant last fall, Goodwill has helped 200 low-income seniors and expects to serve another 177 seniors across the 15 counties, Spears said.

Participants wanted
In Thurston County, Goodwill is looking to increase its enrollment from nine participants to 15, he said. Once they qualify, Goodwill assigns them to either a nonprofit or government agency where they work no more than 20 hours a week at minimum wage. Wages for the participants are paid out of the grant funds. As part of her worker retraining, Minor is improving her computer skills in an office at the Thurston County WorkSource building in Tumwater that helps former inmates transition into employment.
Minor also is a student at The Evergreen State College and is working toward a bachelor's degree with an emphasis in counseling and psychology.
Yet Minor is aware that the worker retraining program is only temporary. "That's the purpose of the 20 hour (work week)," she said. "Your other 20 hours should be spent looking for work."
Spears said a participant could spend up to four years in the program, but Goodwill recommends no more than nine months at one job site, preferring to rotate clients to another employer if they need additional training JoAnn Minor has redirected her career path with help from the Senior Community Service Employment Program, administered by Goodwill Industries. Minor is a participant in the worker retraining program that targets low-income seniors. The program is funded with a federal grant.
(Steve Bloom/The Olympian)
14-month search
Aurela Sequoia, who declined to give her age, has been in the program since January and has been looking for work for the past 14 months. She is currently improving her computer skills with a division of the state Department of Social and Health Services in Lacey.
By participating in the program, she has leverage in finding a job that she might otherwise not have if she wasn't working at all.
"That does make a difference, and it makes you feel you have been part of the work force," she said.
Sequoia also said working again has given her a new sense of confidence in continuing to look for work.
"There's a certain energy you put out, and you feel useful," she said.
Rolf Boone covers business for The Olympian. He can be reached at 360-754-5403 or by e-mail at rboone@theolympian.com.

---
Theory to Praxis Saturday Classes - Winter 2007




When


January 20th,
February 3rd and 17th,
March 3rd
March 24th (Generations Rising)


Where


In Lab I Room 1040
From 9 am to about 2:30 pm

General Agenda

Theory to Praxis Workshops "Using liberal arts skills, critical thinking elements and personal history as a guide to analyzing policy"

Our agenda for Saturdays includes:

Breakfast and a working lunch.

Greeting alums who are in the area and want to join the "work"

Review of the following documents: Liberal Arts Skills, Critical Thinking Elements, Socratic Questioning Template, Tribal/State Agreement, Writing: Honoring the 4 Directions

View "In the White Man's Image"

View "Democracy Dialogue Series"

Discuss Freire, hooks, Paul, student selected texts for the quarter

Issues and focus topics: ICW on-line certification, Disability Issues, Conferences/Trips, Legislative Bills, Theatre of the Oppressed/Liberation,