Class Meets on Tuesday evenings from 6 – 9:30 pm
Texts:
• Nutrition for Life by Thompson & Manore, Publisher: Benjamin Cummings
Copyright: 2007 ISBN: 0805379681
[ If you have access to another nutrition textbook that was published within the past few years, use it. The information will be essentially the same, and you can save some $.]
• Food Politics : How the Food Industry Influences Nutrition and Health by Marion Nestle. University of California Press [isbn=0-520-24067-7]
Course Objectives: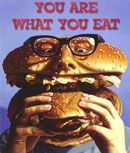 • The student will learn basic human nutrition while investigating how diet and lifestyle impact health.
• Students will learn how to assess their own diet as a tool to understand class material, and for personal use