Announcements
Class is over! Enjoy your break.

---
Program description
What is a species? Species are the fundamental unit of ecology, yet biologists have never agreed on a single definition. We will explore both the theory of species concepts and the practice of identifying species of vertebrates and insects. Readings and lectures will cover introductory concepts in genetics and development, taxonomy and systematics, and the evolutionary biology of diversity.

To identify species is to make decisions about patterns of variation, so workshops will emphasize the scientific process, basic descriptive statistics, and probability. On-campus field work continue a long-term project to assess and monitor the diversity of ground beetles on the Evergreen campus. A 5-day field trip to eastern Washington will emphasize field natural history.
Hatchling gekkos (Homopholis antongilensis)
on Nosy Mangabe, Madagascar, 1999.
Texts and other required purchases for this program will include:
The Diversity of Life. By Edward O. Wilson. 1992 (reissued in 1999). W. W. Norton & Company. ISBN: 0-393-31047-7.
Practical Statistics for Field Biology, 2nd edition. 1998. By Fowler, Cohen & Jarvis. Wiley & Sons. ISBN: 0-471-98296-2.
Plants of the Pacific Northwest Coast: Washington, Oregon, British Columbia & Alaska. 2004 (revised edition). By Pojar & MacKinnon. Lone Pine Publishing. ISBN: 1-55105-040-4.
Rite-N-the-Rain notebook, for data and observations during field trips.
3-ring binder for portfolio; standard 8.5 x 11 inch paper.
2 pairs fine-tip forceps (available at LabStores on 2nd floor of Lab 1), ruler, compass, hand lens.
$120 field trip fee, for five day trip to Eastern Washington in week 2.
There will also be several articles—required readings for class—available on the Readings page of the program website.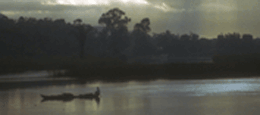 Website by Heather Heying