SYLLABUS - SPRING 2008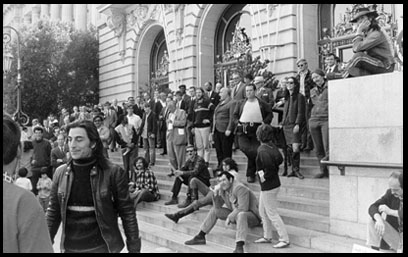 Class Schedule
Monday 10-12, reading seminar, Lib 0408
Monday 1-3, web writing, Mac Lounge
Wednesday 10-12, digital imaging, Mac Lounge
Thursday 10-2, independent web research, online
Friday 10-12, reading seminar, Lib 3301
Friday 12:30-2:30, web work review, Lib 3301
Term Projects
Individual Research Paper – Each student must complete an original 10-12 page research paper on a social movement or cause of his or her choice. This project will be tied to, and structured by, a Web 2.0 experiment that combines individual research and writing with collective publishing and authorship on our program wiki.
Dig Movements Wiki – Program members will bring their individual research and writing products together on the program wiki site to build a comprehensive, interactive database of research and analysis on social movements. We will develop the wiki syntax, digital imaging, and blogging skills necessary to achieve this goal.
Weekly Tasks
Seminar Paper – A reaction paper based on each week's book assignment will be due at the start of seminar on Monday mornings. The short, but serious writing assignment should review (not just summarize) book content and arguments, focus thoughts for discussion, and practice college writing skills. It should be printed in a reasonable font and be 1-2 pages in length.
Computing Classes – Participation in computer classes and completion of computing assignments are required. The pace in Wikimedia, Photoshop, and Blogger instruction will be determined by the initial skill levels and learning progress of our group as a whole. Program members with advanced and intermediate technical skills will have the opportunity to mentor and support beginners.
Project Work – Stepwise project assignments in library research, web research, and wiki writing will be due each week. These assignments will structure weekly progress on our individual research papers and at the same time build our Wikimedia website. Weekly assignments and instructions will be posted on the program blog each Monday and be due on Friday. Our online class times on Thursdays are reserved for distance work on these assignments. Additional time may be required to complete them. Short, supporting blogging assignments may be made occasionally.
Web Review and Presentations – We'll take turns each Friday presenting and reviewing our wiki writing, blogging, and other web work in progress. Our Friday discussions will be supported by weekly chapter readings from one of our textbooks, Cyberactivism.
Schedule of Readings
Week 1, Mar 29 - April 4
Friday sem – Cyberactivism: Online Activism in Theory and Practice by Martha McCaughey, Michael D. Ayers (2003), Intro, Ch 1
Week 2, April 7 - 11
Monday sem – We the Media: Grassroots Journalism By the People, For the People by Dan Gillmor (2006)
Friday sem – Cyberactivism, Ch 2
Week 3, April 14 - 18
Monday sem – Social Movements, 1768-2004 by Charles Tilly (2004)
Friday sem – Cyberactivism, Ch 3
Week 4, April 21-25
Monday – People's Movements, People's Press: The Journalism of Social Justice Movements by Bob Ostertag (2007)
Friday sem – Cyberactivism, Ch 4
Week 5, April 28 - May 2
Monday sem – The Art of Protest: Culture and Activism from the Civil Rights Movement to the Streets of Seattle by T.V. Reed (2005), Ch 1-5
Friday sem – Cyberactivism, Ch 6
Week 6, May 5 - 9
Monday sem – The Art of Protest, Ch 6-10
Friday sem – Cyberactivism, Ch 7
Week 7, May 12 - 16
Monday sem – Communication Revolution: Critical Junctures and the Future of Media by Robert W. McChesney (2007)
Friday sem – Cyberactivism, Ch 8
Week 8, May 19 - 23
Monday sem – Insurgency Online: Web Activism and Global Conflict by Michael Y. Dartnell (2006)
Friday sem – Cyberactivism, Ch 9
Week 9, May 26 - 30
Monday sem – The New Transnational Activism by Sidney Tarrow (2005), Ch 1-5
Friday sem – Cyberactivism, Ch 10, 11
Week 10, June 2- 6
Monday sem – The New Transnational Activism, Ch 6-11; Cyberactivism, Epilogue
Evaluation Week, June 9 - 13
Evaluation conferences TBA