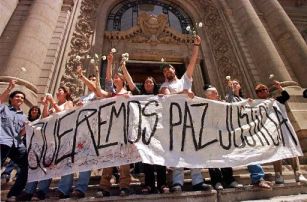 HRLT Syllabus overview
Winter 2008
Pictured: a demonstration in Santiago in November 1998 demanding the arrest of former Chilean dictator Gen. Augusto Pinochet.
Students must attend the first week of class in order to preserve their enrollment; failure to attend class will drop you from the program and open a spot for those on the wait list. We meet on Monday Jan 7 at 10:00 am in Sem 2 D3109, and on Thur Jan 10 at 10:00 am in Sem 2 C3109.
The program has a prerequisite, as announced in the catalog, that students must have completed two quarters of literary study. On the first day of class students will be asked to demonstrate that they meet the prerequisite, and if they don't, they will be dropped from enrollment so that waitlisted students can register.
"Two quarters" means two courses in a traditional institution offered at the 200-level or above, or two quarters of an Evergreen coordinated studies program in which literary study is a central element of inquiry. Bring a writing sample to class on the first day to demonstrate you are well prepared for advanced undergraduate study of literature.
Readings must be completed in advance of class, and readings for the first week must be completed over the winter break. See reading list below for details.
Annoucements will be sent to the email addres you have on record with the registration office, so please check this email address during the winter holiday.
DESCRIPTION
In what ways can the theory and practice of human rights enrich our understanding of literature, and how can literary studies broaden our understanding of human rights? We will think about literature as an ethical and political project and consider what relation, if any, literature has to conventional forms of human rights work. We'll question the emotional impact literature can have on readers, and whether emotions such as empathy have a necessary relation to justice. We will also study visual representation of rights violations in film, and compare visual and textual modes of story telling. Finally, we will consider how narrative enables or disables memory, truth telling, and justice in the aftermath of atrocity. Among our selected human rights topics we will study civil rights, freedom from discrimination, torture, disappearance, sexual rights, and economic rights.
Students will pursue research projects on select human rights topics as those topics are engaged by the arts and humanities (fiction, poetry, theater, film, music, painting, dance, history, philosophy, and so forth). The aim of these research projects is to produce publicly useful resources for human rights education in Washington State.
MEETING TIMES
Mondays 10-12 and 1-3 in Sem 2 D3109
Thursdays 10-12 and 1-4 or 5 in Sem 2 C3109
Fridays 10-12
Please note that most Friday meetings are webinars, for which we meet online rather than in a classroom, but three Fridays we will meet physically on campus.
Please also note two evening meetings: Tuesday January 22 and Thursday April 6.
TEXTS FOR PURCHASE
Lynn Hunt, Inventing Human Rights (Please read this book over winter break, in advance of the first class meeting)
Beverly Daniel Tatum, Can We Talk About Race? (Please read this book in advance also, for the second class meeting)
Toni Morrison, Paradise
Michael Ondaatje, Anil's Ghost
Ivan Ângelo, The Celebration
Alicia Partnoy, The Little School
Joseph Slaughter, Human Rights, Inc.
Kenji Yoshino, Covering
ADDITIONAL ESSAYS/CHAPTERS (available on Moodle site via link at top of page--ask the instructor for the "key" to access the site--Safari is not an entirely reliable browser for this site so use another browser such as Firefox)
The "International Bill of Human Rights" (Please read over winter break in advance of the first class meeting: The Universal Declaration of Human Rights, the International Covenant on Civil and Political Rights, the International Covenant on Economic, Social, and Cultural Rights)
Patricia Williams, "The Pain of Word Bondage"
Richard L. Schur, "Locating Paradise in the Post-Civil Rights Era: Toni Morrison and Critical Race Theory"
Valerie Smith, "Meditation on Memory: Clark Johnson's Boycott"
Dr. Martin Luther King, Jr, "Where Do We Go From Here?"
Richard Rorty, "Human Rights, Rationality and Sentimentality"
Martha Nussbaum, "Rational Emotions" from Poetic Justice
Thomas Keenan, "Mobilizing Shame"
Susan Sontag, "War and Photography"
Elizabeth Goldberg, "Genocide: Witness"
Michel Foucault, from Discipline and Punish
Elaine Scarry, "The Structure of Torture"
Alan Dershowitz, "Tortured Reasoning"
David Luban, "Liberalism, Torture, and the Ticking Time Bomb"
FILMS
Boycott, dir. Clark Johnson, 112 minutes
War Photographer, dir. Christian Frei, 96 minutes
Ararat, dir. Atom Egoyan, 115 minutes
Favela Rising, dir. Jeff Zimbalist and Matt Mochary, 82 minutes
City of God, dir. Fernando Meirelles, 130 minutes
Caradiru, dir. Hector Babenco, 145 minutes