Overview
Faculty:
David Phillips, MA
Answers to Frequently Asked Questions
1) How should I prepare for the first day of class?
Before you leave campus for winter break, purchase these books; read them over winter break.
Brian Loveman, Chile: The Legacy of Hispanic Capitalism, 3rd ed (pages xiii-xiv, 1-31, 35-46, 48-66, 73-80, 88-91, 100-105, 109-111, 118-123, 127-131, 139, 142, 145-52, 165-188, 194-206, 217-221, 225-260, 261-359. Also note the useful chronology, pp 360-369.) NB: The bookstore will not carry this book because it is a print-on-demand book. You need to purchase it directly from an internet bookseller. You must purchase the THIRD edition (2001)–no prior edition contains all the assigned chapters. Plan ahead, as you must own and read this book before week one of winter quarter.
Boris Fausto, A Concise History of Brazil (entire book) Own and read this book by week three of winter quarter, but if at all possible read it over break. Week three is a week of heavy reading. The campus bookstore has ordered this title and should have it in stock.

2) What do I need to know to register?
Students must register for all 16 credits, 4 of which are in language study. You may decide to study either Spanish or Portuguese, and we aim to enroll 25 students in each language track. Registration is open to sophomores through seniors.
To study Spanish, register for:
Lit and Cultural Politics – Sp – 20094
To study Portuguese, register for:
Lit and Cultural Politics – Port – 20101
Students who plan to study Spanish but have no prior experience with the language should also enroll in Beginning Spanish 1 in part-time studies (we will adjust your credits back to 16 during week one).
Spanish Language Assessment: Spanish "track" students with more than zero Spanish must take the Spanish language assessment, which will be offered on Tuesday, 15 December 2009 at noon in Sem 2 E 3107.
3) Can I register for only winter or only spring?
No. This program will be taught as a 15-week "semester" from January through April, followed by four weeks of field study in either Brazil or Washington State. Our program will conclude with two weeks of synthesis with all students reunited in Olympia. Students must register for the entire 32 credits of study. While the rest of the college has a winter quarter "eval week" our classes will continue on the regular schedule. We will observe spring break from March 20-28, and our first "eval week" will be April 19-23. Our final eval week will coincide with the college-wide eval week: June 7-11.
4) Can I work full-time while also studying in this program?
No. Students who need to work more than 10 hours per week, or who have substantial family obligations, should not register for this program. Both the language and the literature/politics components of the program require extensive preparation outside the classroom. Students who are employed must be able to be free from work January 18th and 19th for a two-day field trip, must be able to work flexible hours from April 25th through May 22nd when students in Olympia will engage in field study, and must be entirely free from work during those four weeks if they attend the overseas studies component.
5) What will our weekly schedule look like?
While we are still waiting to hear from the space scheduling office, we anticipate a schedule along these lines. Note that purple text indicates on-line activities that you may complete at home if you have sufficient internet access. Blue text indicates on-campus activities, although any given student will take either Portuguese in the afternoon or Spanish in the morning, not both. Students applying for the overseas studies component must attend Friday sessions from 9:00-10:00: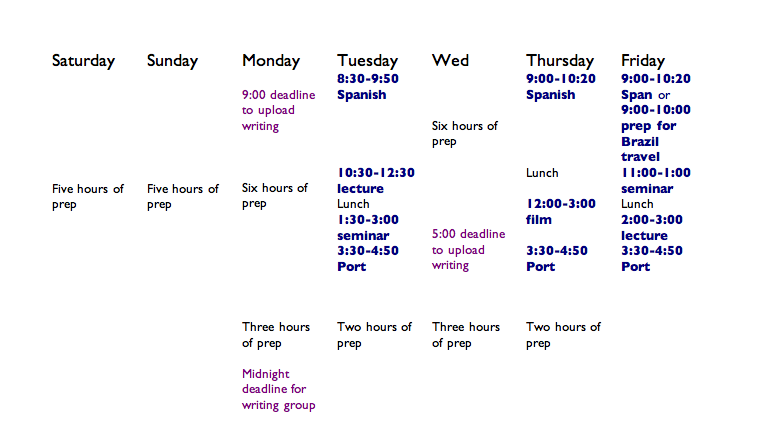 6) By registering for the program am I guaranteed to study in Brazil?
No. The college requires at least 15 qualified applicants in order to fund the study abroad component. Applicants for Brazil study must meet several criteria including:
a)    Successful completion of Portuguese language study in the program
b)    Successful attendance, participation, and learning in all aspects of the program
c)    Timely payment of all fees
d)    Timely submission of the written application and a successful personal interview
7) What will we read in the program?
In addition to purchasing and reading these books, students are required to download and read between 1-5 scholarly articles or book chapters each week. Books will be sold at the campus bookstore. These books are listed in the order assigned for the first 15 weeks; additional reading is required for the field study/study abroad:
Brian Loveman, Chile: The Legacy of Hispanic Capitalism, 3rd ed (Oxford UP, ISBN 978-0195120202)
Elizabeth Jelin, State Repression and the Labors of Memory (University of Minnesota, ISBN 978-0816642847)
Michael Rossington and Anne Whitehead, eds. Theories of Memory: A Reader (The Johns Hopkins UP, ISBN 978-0801887291)
Boris Fausto, A Concise History of Brazil (Cambridge UP, ISBN: 978-0521565264)
Bruce B. Lawrence and Aisha Karim, eds., On Violence: A Reader (Duke UP, ISBN 978-0822337690)
Ivan Ângelo, The Celebration (Dalkey Archive Press, ISBN 978-1564782908)
Ariel Dorfman, Widows (Seven Stories Press, ISBN 978-1583224830)
Silviano Santiago, Stella Manhattan (Duke UP, ISBN 978-0822314981)
Pía Barros, A horcajadas/Astride (Asterión, ISBN 978-9567281299)
Conceição Evaristo, Ponciá Vicencio (Host Publications, ISBN 978-0924047343)
Diamela Eltit, The Fourth World (University of Nebraska, ISBN 978-0803267237)
Regina Rheda, First World Third Class (University of Texas, ISBN 978-0292706996)
Bryan McCann, The Throes of Democracy: Brazil Since 1989 (Zed Books, ISBN 978-1842779262)
Ariel Dorfman, Death and the Maiden (Penguin, ISBN 978-0140246841)
Luz Arce, The Inferno (University of Wisconsin, ISBN 978-0299195540)
Pedro Lemebel, My Tender Matador (Grove Press, ISBN 978-0802141873)
8) What sorts of assignments will we have in this program?
For the language component, expect a wide range of assignments in and outside of class including reading, writing, speaking, listening, and memorization.
For the literature/cultural politics component, assignments include advance preparation for lectures and seminars, active participation in class discussions, writing posts to our program web pages, group reading/editing of each other's work, and written assignments including but not limited to:
a)    Two short papers (2.5 pages) that demonstrate close reading of literary texts
b)    Reflection essay on our January field trip
c)    Writing exercise on building a thesis
d)    Medium-length essay (5-7 pages) analyzing two novels
e)    Two short papers (2.5 pages) that demonstrate a thesis
f)    A synthesis exercise leading to a self-evaluation for weeks 1-14
g)    A written project emerging from the field work/study abroad
h)    A presentation to the entire program
i)    A final synthesis exercise leading to a self-evaluation for the entire program.
9) I can't attend the first day of class and/or I'm on the wait list. What to do?
During the first week of winter quarter we will sort out all kinds of questions. Wait listed students might be added the first week IF:
a)    Students registered but aren't able to meet the requirements above
b)    Students registered but don't show up during week one
For these reasons it is vitally important that students attend the first week of winter quarter UNLESS they have an airborne communicable illness such as a cold or flu. If you have such an illness stay home. If you are ill, please email faculty in advance so that we can make arrangements to reserve your place in the program.
10) I'm interested in going to Brazil. What do I need to do in fall quarter to maximize the chances that I can do so?
a) Make sure you have a passport valid until at least Oct 25, 2010. (The Brazilian consulate requires a passport valid for 6 months beyond the date we enter the country, even though we will only stay one month.)
b) If you don't have a passport, apply for one IMMEDIATELY. The process of applying for a student visa to Brazil is time consuming–much more so than applying for a tourist visa. Bring your valid passport with you to campus on Friday of week one.
c) Put aside money now–the overseas studies portion of the program will cost you approximately $4,000 (airfare, room & board, instructional costs, etc). A deposit of $500 is due Wed Jan 13th.