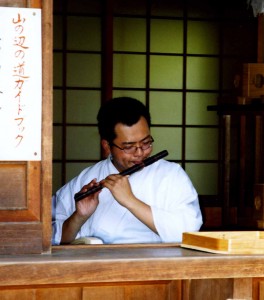 Welcome to Music and Movement in Nature and Culture! This year-long, team-taught, full-time program has as its focus the study of both ethnomusicology and ethnochoreology: music and dance in cultural context. The program is intended for upper division students interested in careers in music, dance, anthropology, folklore, and area studies. What follows below is from the Evergreen Course Catalog.
This performing arts program explores societal concepts, artistic behaviors, and reactions to music and dance in cultural and physical contexts. Themes include the exploration of music and dance in relation to the natural world, and the intersections of music and dance with gender, spirituality, urbanization and social change. After establishing a firm base of concepts, skills and approaches together in the fall, we will emphasize thematic and/or regional work and individual or small group projects during the winter term. Spring quarter offers the opportunity for students to engage in individual fieldwork studies with performing artists off campus. With some serious preparatory reading and listening, students may join the group in winter on a space-available basis, but not in spring.
A deep interest in music and/or dance is expected, and prior study, formal or informal, will help. Students will be expected to do significant reading, writing and study of musical texts and choreography—especially field recordings, videos and ethnographies. Knowing how to read music will help you; if you do not, we will teach you. We will engage in critical listening and viewing (analyses of what we hear and watch), and transcription—simple, quick ways to write music and dance movements down so that you can look at them in different ways. Those with previous training will do work at their level, but such training is not expected. If you're a serious student, you will do well in this program.
Other activities are likely to include choreography, composition, field trips, instrument building, research projects, papers and presentations. If funds are available, we will have workshops by visiting artists. We will have periodic performances and critiques of work by students in the program. Expect to work hard on developing your performance skills in a musical instrument or dance genre, practice regularly and perform. The goal of this study is not necessarily a performing career, but rather the development of insights into the performing arts that only hands-on, experiential work can provide. We cannot subsidize private lessons, but we will provide a steady, challenging and safe forum for performance, critique, and creative and intellectual growth.
Credits: 16 per quarter
Enrollment: 75 Fall, 75 Winter and 50 Spring
Books: www.tescbookstore.com
Special Expenses: $50-$75 per quarter for performances; approximately $150 for books each quarter. Spring quarter expenses will vary depending on the fieldwork site chosen by each student.
Program is preparatory for careers and future studies in ethnomusicology, dance and anthropology.
Planning Units: Expressive Arts