Prout, Owen
From booktorrent
Life
Owen was born in the Lentil Capital of the United States on July 1, 1988 to parents Jerry Prout and Kathy Wilbourn. He attended Pullman High School, from which he graduated in June of 2007. He now lives in Olympia, Washington with his pet snake, Becky, named for the talented artist, Rebecca Black.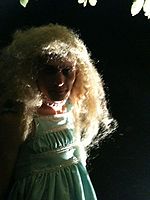 Academia
After graduating high school, Owen attended the William O. Douglas Honors College at Central Washington University. He studied English Education for two years before becoming exasperated by the nuances of education classes and and standard academic practices. He spent a year abroad in Europe before being admitted to the Evergreen State College where he is studying Library and Information Science. He is currently enrolled in Evergreen's booktorrent program, instructed by one of Evergreen's most capable faculty, Jules Unsel. Owen's ultimate academic goal is to attend graduate school in Library and Information Science . . . somewhere . . .
Work
Since the summer of 2005, Owen has been seasonally employed at a large commercial farm owned by the Clark family, roughly 2 miles north of the town of Albion. Owen has also been employed as a dishwasher and tour guide at the Villa St. Exupery in Nice, France, and as a math and science tutor at Olympia High School in Olympia, Washington.
Other
Owen has an odd sense of humor and an ailment that robs him of a social filter. His favorite movies are those about women's sports teams or dogs that defy the odds. Also, he's kinda prickish about punctuation.
Contact Info
Evergreen email: proowe01@evergreen.edu
Gmail: orprout@gmail.com
Phone: 509.592.0265