Category:Copyright
From booktorrent
Copyright & The Concept of Iteration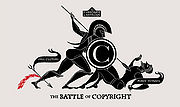 Copyright is a term used to describe the distribution rights of creator-derived work. It is a means of enforcement, more broadly, for intellectual property rights. Copyright is regulated on national and international levels by legislation and treaties. Copyright has developed in dramatic ways with the advent of digital distribution methods for old and new media.
Pages in category "Copyright"
The following 6 pages are in this category, out of 6 total.
C
D
H
O
P