Information Networks, Databases and Projects
From booktorrent
Information Networks, Projects
Considering the library is moving from a physical space with shelves and "real" books towards digital databases and portals. Evergreen Collection Development has engaged in major databases (JSTOR, EBSCOhost) but there are countless more available to academic and research libraries. The efforts of each database demonstrate current efforts to catalog scholarly journals, articles, and research in fashion that was unavailable to undergraduate and graduate students before the internet. After all, the internet was originally used by universities and researchers before it became open to the consumer public.
The priority of Evergreen Collection Development in regards to digital resources is to establish an easy-to-use search engine that delivers results efficiently to students. Patrons expect everything to be free of charge and to be immediately and easily accessible (224). The economic status of the Evergreen State College library, and of collection development, must be considered when looking at available options for information resources and search engines.
HathiTrust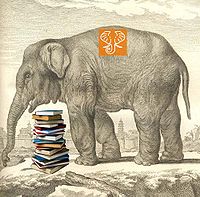 HathiTrust is a "partnership of major research institutions and libraries working to ensure that the cultural record is preserved and accessible long into the future. There are more than sixty partners in HathiTrust, and membership is open to institutions worldwide." Membership gives participating universities access to over 2.6 million public domain books published before 1920. The database has been built by American and British universities scanning volumes from their respective research libraries (participants include the University of Michigan, New York Public Library, Oxford University and Harvard). The database includes digitized content from Google Books and the Internet Archive as well as from research libraries.
In 2013, HathiTrust plans to unveil a membership model that would allow universities that don't contribute content to join. "Hathi" is Hindi for elephant, an animal known for its memory.
Espresso Book Machine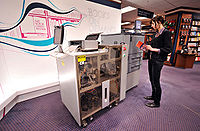 The Espresso Book Machine (EBM) is a device marketed by On Demand Books that enables patrons to print books "on demand". It makes a paperback book in minutes at "point of need". The benefits of purchasing an EBM are that it allows access to 4 million printable titles and in true Evergreen fashion, it is environmentally friendly.
It's an expensive machine, but serves as a nice addition to a library hoping to stay on top of emerging technologies. Without a cohesive budget for the Daniel Evans library moving towards 2012 and beyond, a consideration of the Espresso Book Machine would be desirable by library administrators.
Watch the Espresso Book Machine in action on Youtube:

ITHAKA
The organization behind JSTOR, bringing scholarly resources to universities, ITHAKA is a not-for-profit organization. In addition to JSTOR, they operate Portico, a repository for digital archivists and preservationists. ITHAKA is one of the major players in the field of information distribution, next to OCLC and ESBCO, with 90 million searches in JSTOR alone between January and May of 2010.
OCLC
The Online Computer Learning Center (OCLC) is a non-profit organization dedicated to "using Web scale to deliver library resources, services and expertise at the point of need, within user workflows and in a manner that users want and understand"(OCLC's "Vision")
OCLC was founded as the Ohio Online Learning Center in 1967 and now runs WorldCat, the largest online public access catalog (OPAC) in the world, of which Evergreen is a member.
Project Muse
In keeping with the theme of databases providing scholarly content, Project Muse's mission statement is this: "Project MUSE is a unique collaboration between libraries and publishers, providing 100% full-text, affordable and user-friendly online access to a comprehensive selection of prestigious humanities and social sciences journals." As described, Project MUSE is one of several aggregators available to university libraries like Evergreen. Given that TESC already has the license for JSTOR, EBSCO, and various other databases, how does Collection Development assess the need for additional resources available to students?
EBSCOhost
Owned by EBSCO Corporation, EBSCOhost is one of the largest providers of online databases in the world. EBSCOhost carries over 350 full-text and secondary databases in the form of journals, magazines, books, monographs, reports, ebooks, business book summaries and various other publication types.
Evergreen currently holds a subscription to EBSCOhost's services.
Overdrive
Overdrive, a "global distributor of digital eBooks, audiobooks, music & video", has emerged as the leader in digital content distribution to public and university libraries. They currently hold over 150,000 digital media titles in their collection development e-warehouse Content Reserve. Publishers upload their DRM-protected content to the Content Reserve , where "public library collection managers can review title metadata such as jacket covers and descriptions, and order audiobooks, eBooks, music, and video for their digital collection. Purchased titles are automatically added to their library's online collection" (Wikipedia). In the current market, most libraries work through OverDrive, which acts as a middleman between publishers and libraries, according to the New York Times.1 There are obviously pros and cons that come with access to Overdrive.
Overdrive is accessed with patrons' library card numbers and PINs, not unlike preexisting access formats for databases through Evergreen.
According to Overdrive's website, "pricing for the School Download Library service starts at just $4,000 per year (including $2,000 worth of eBooks and/or audiobooks) for an individual school or a district of up to 2,000 students." More than 2,000 students and the fees are subject to cost more.
Where does the library go from here?
As this consideration of databases and projects should indicate, there are many options available to a library's collection development team in regards to databases. Evergreen's Articles via Database section is an extremely comprehensive collection that could benefit from better organization and a simplification of its purpose for inexperienced students who rely on Google or Wikipedia for sources.