The Puget Sound Mycological Society is holding its spectacular annual wild mushroom show on Saturday, October 12, 2013 – 12pm – 7pm and Sunday, October 13, 2013 – 10am – 5pm at Magnuson Park in Seattle. PSMS creates one of the largest exhibits of wild mushrooms in the country, all identified, organized by genus, and beautifully arranged. It's an amazing display of biodiversity and a great place to meet other mycophiles. Highly recommended!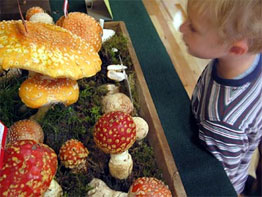 The show also features lectures, cooking demonstrations from top chefs, and vendors selling mushroom books and other mushroomy stuff.
Bring your student ID and get in for $5. Regular admission is $10.