TOM FOOTE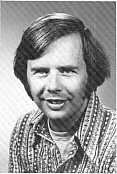 I began life in Ipswich, Massachusetts, a small New England town steeped in tradition and struggling under the burden of mixed ethnicity. Greeks and Poles brought there to work in the hosiery mill and French who migrated from Quebec, made up half the town, with WASP's completing the other half. A product of a parochial high school education, I soon learned to distinguish between absolute truth (what was expected of me) and relative truth (what I felt like doing). I set out to become a medical doctor like my Dad. I gave that up, attended Boston U. night school, drove a forest fire truck days for the state of Massachusetts. At that point, I decided to go back to school and enrolled in the University of Tulsa, Oklahoma, taking a B.A. in journalism in 1961. I went to work for the Tulsa Tribune (c. 80,000) and soon thereafter joined the NAVY. My first duty assignment took me to Washington, D.C. for 6 months where the spark of interest in Bluegrass music became an inferno. The remainder of my tour with the NAVY was spent on the decks of a minesweeper where I learned topside rigging, boathandling, minesweeping techniques and other interesting mechanical procedures I had never been exposed to before. I left the NAVY, moved to Oregon and began graduate study in Education and English. I taught journalism, American literature, and transformational grammar in high school for a year, and was accorded the opportunity to join a research team at Oregon State University and begin doctoral study. In July 1970 I completed the Ph.D. in Education with a major in Foundations and a minor in English. I also have a concentration of coursework and interest in Anthropology.
I was sensitized early to ethnicity having an Italian-born mother and a French-Canadian father. I ate different food, attended a different church, and barely understood the strange musical language spoken at family gatherings.
I am interested in all facets of Education and the related teaching arts, and I believe in education for survival. I am fascinated with
how we as learners order and structure hierarchies of responses, and how we assimilate and process data. I have pursued at length my interest in Appalachian mountain music, specifically Bluegrass, and have developed some degree of competence playing the 5-string banjo, guitar, and Dobro
(an unamplified, resonating guitar tuned to an open chord -usually G - and fretted with a steel bar in the Hawaiian manner). To a lesser degree
I also play mandolin and autoharp. I am excited about Bluegrass music and expect to continue to explore that interest and share it with others.