Resources
Submitted by drupaladmin on June 21, 2006 - 1:09pm.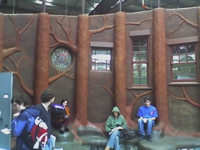 Websites
Sketchup Resources
Video tutorials - http://sketchup.google.com/gsu5vtvideos.html
Cradle to Cradle
• Architectural design competition embracing cradle to cradle and judged by the authors. 1st place was won by Seattle residents Mathew Coates and Tim Meldrum. Some of the designs are available for viewing on this site.
• A website by the author and architect William McDonough.
• Product and process design firm that was created by Braungart and McDonough.
Portland Field Trip
The Rebuilding Center
http://www.rebuildingcenter.org/
Ecotrust
Office of Sustainable Development Portland
http://www.portlandonline.com/osd/
Olympia Field Trip
Habitat for Humanity South Puget Sound- ReStore
http://www.spshabitat.org/restore.php
Olympia Salvage
http://www.olympiasalvage.org/
Windfall Lumber
http://www.windfalllumber.com/