Dining Out
From harborpedia
Hungry?
Grays Harbor is a fair sized county which means there are plenty of places to eat.
So head out on the town tonight and get yourself a bite to eat.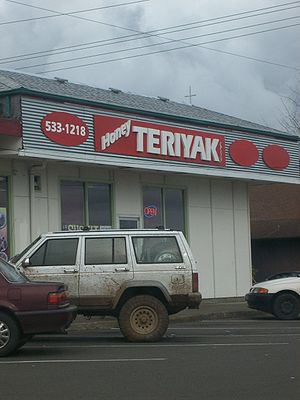 Aberdeen
Anne Marie's Cafe
110 S I St.
Baskin Robbins
1014 E Wishkah St.
Billys Restaurant
322 E Heron St.
Blue Beacon
406 S Boone St.
Breakwater Seafoods and Chowder House
306 South F St.
Bridges Restaurant
112 North G. St.
Burger King
620 E Heron St.
Canton Cafe
205 S G St.
Captain's Corner
701 W Curtis St
Chinese Village
2409 Simpson Ave.
Denny's
418 W Heron St.
Duffys Restaurants
1605 Simpson Ave.
El Maya
621 S West Blvd
Happy Teriyaki
1029 E Wishkah St
Honey Teriyaki
511 Oak St
Jack In The Box
400 E Heron St.
KFC
1110 E Wishkah St
King's WOK Buffer
2701 Sumner Ave
Los Arcos
1212 E Wishkah St
Mallard's Bistro & Grill
118 E Wishkah St
Mazatlan Restaurant
720 W Wishkah St
also at
1165 E Wishkah St.
McDonald's
1101 East Wishkah Street
Ocean Palace Restaurant
112 E Wishkah St.
Pizza Hut/Wingstreet
100 W Wishkah St
Quizno's Classic Subs
327 W Wishkah St.
Restaurante La Salvadorena
422 W Wishkah St
S Pizza
821 E Wishkah St
Sidneys Casino
512 W Heron St
Starbucks Coffee
1213 E Wishkah St.
SUBWAY
1029 E Wishkah St
Taco Bell
810 E Wishkah St.
Thai Carrot
412 S Boone St.
The Lunch Box
315 E Perry St
Vans Express
1017 S Boone St
Cosmopolis
Hong Kong Resturaunt
1212 1st St.
Clarks
731 US Highway 101
Montesano
Bee Hive Restaurant
300 S Main St
Crows Nest Drive Inn
441 S Main St
El Rancho Family Mexican Restaurant
216 S Main St
Family Cook House
216 S Main St
Gene's Stop & Go
414 W Pioneer Ave
Gepetto's Pizza
126 E Pioneer Ave
Hoquiam
101 Bar & Grill
322 Lincoln St
Al's Hum Dinger
104 Lincoln St
Casa Mia
2936 Simpson Ave
Dominos Pizza
2605 Simpson Ave
Golden Dragon Cafe
710 Simpson Ave
Grizzly Den
300 W Emerson Ave
Los Arcos
825 Simpson Ave
McDonalds
2501 Simpson Ave