Spiny Dogfish
From marinelife1011
The Pacific Spiny Dogfish (Squalus acanthias) is a species of dogfish from the family Squalidae located in the order Squaliformes. The Sualiformes contain all of the dogfish species for a total of 130 or more. They are characterized by a small to medium build and cylindrical body. Dogfish are inhabitants of most of the Earth's oceans including both warm and temperate waters. Unlike most examples of shark dogfish do not posses an anal fin. Another defining feature of the family is the addition of a second dorsal fin. Both dorsal fins also feature a venomous spine at their base.
Morphology
Spiny dogfish are smaller sharks never growing much larger than 250 centimeters . The females of the speceies are often larger in size than males. Mature males tend to range from 80 to 100 centimeters where mature females can grow to sizes a large as 1.5 meters. Spiny dogfish reach sexual maturity rather slowly and can live upwards of half a century. Males average a lifespan of 30 to 35 years where most females can live till 40 or older. The species displays a form of crypsis through coloration. The dorsal portion of the shark is usually a dark tan or brown fading into a white creamy underbelly. Juvenile dogfish often have a line of white spots running down their lateral line which they loose as they age. The spines located on the two dorsal fins of the species are known to be venomous.

Behavior
Habitat
Spiny dogfish inhabit both near shore and open water environments. They prefer colder water in the range of 7 to 10 degrees celcius. Although spiny dogfish can be found in estuaries and bays they will also inhabit water as deep as 200 meters. Large populations are located along both the east and west ends of the Atlantic ocean, east and west coasts of the Pacific ocean, and as far south as the tip of Argentina. The greatest numbers of spiny dogfish are found along the coastal regions of British Columbia and Washington state.
Feeding Habits
The diet of the spiny dogfish is diverse and includes both invertebrates and vertebrates. Juvenile sharks will eat smaller crustaceans and other invertebrates including species of squid and jellies. Adult spiny dogfish primarily consume smaller fish. For the most part these fish are herring, mackerel, silver hake, and sometimes flatfishes and sculpins.
Migratory habits
Often spiny dogfish are found in large schools that can number in the hundreds. The school are separated by sex and size of the fish. The fish will migrate great distances in these large school up and down the east coast of North America. Sharks found off the shore of North Carolina during the the winter move north to Canadian waters during the summer. This migration is theorised to be prompted by changes in water temperature. Similar migrations have been seen in populations near Patagonia but have not been studied well enough to make a similar hypothesis. It it thought that populations found elsewhere throughout the world do not migrate due to the more stable cold water temperatures of those locations.
Reproduction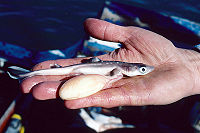 Reproduction is completed by means of internal fertilization. Spiny dogfish show sexual dimorphism with the males possessing external reproductive organs known as claspers. One of the two claspers is inserted into the females reproductive organ and the sperm is transfered. Offspring our developed through a process of aplacental viviparatiy resulting in live birth. Gestation of the young takes anywhere from 18 to 24 months. Litters can range from 5 to 15 pups but females often never give birth to more than 10 pups. The young sharks will become sexual mature in 7 to 10 years.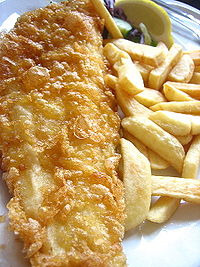 Commercial Market
Spiny dogfish are part of a global fishery. There is currently both a recreational and commercial fishery for them. In the market they may be referred to as spurdog, thornshark, codshark, skittledog, as well as many more names in common vernacular. In some gourmet restaurants it is served as northern shark. Overfishing of spiny dogfish coupled with high bycatch loses have caused major declines in world populations. Spiny dogfish are also seen as a nuisance by some fishermen as they have a tendency to foul fishing gear and can cause painful wounds with their spines. Due to these facts they are sometimes targeted by fishermen for removal from the environment. In most years upwards of 20 million tons of fish were being harvested. In 1998 the National Oceanic Atomospheric Agency listed the species as over fished. After implementing a management program current stocks have risen to healthier levls. In 2010 NOAA listed the fishery as "rebuilt".








References

http://www.nmfs.noaa.gov/fishwatch/species/atl_spiny_dogfish.htm
http://www.itis.gov
http://www.spinydogfish.org
http://www.nbii.gov
http://en.wikipedia.org/wiki/Spiny_dogfish
Marine Fish Diversity and Composition in the Mid-Atlantic and South Atlantic Bights Joseph W. Love and Peter D. Chase Southeastern Naturalist December 2007 : Vol. 6, Issue 4, pg(s) 705-714
Moss, Sanford A. Sharks: An Introduction for the Amateur Naturalist, Englewood Cliffs, New Jersey. Prentice Hall, 1984.