File:Cuttlefish Camo.jpg
From Comparative Physiology of Vision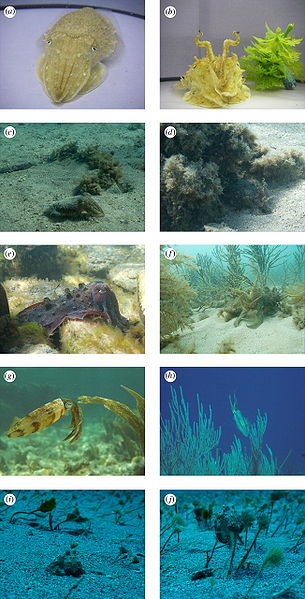 Size of this preview: 305 × 599 pixels
Full resolution
‎ (652 × 1,280 pixels, file size: 261 KB, MIME type: image/jpeg)
(a,b) Laboratory and (c–j) in situ images of cephalopods performing postural camouflage. Please note the variety of arm postures these animals use on diverse backgrounds. (a,b) Cuttlefish S. officinalis in the laboratory in the absence (a) and presence (b) of artificial algae. (c,d) Cuttlefish S. officinalis with arms down in sand (c) and the same animal sitting near algae with its arms raised (d). (e,f) Cuttlefish S. apama with arms down on rocks (e) and with arms raised near algae (f). (g,h) Squid Sepioteuthis sepioidea with arms down near sea fan (g) and with arms raised near soft coral (h). (i,j) Octopus Octopus burryi with arms under mantle on sand (i) and perched on algae with arms extended below mantle (j). Photo credit for (e): N. Justin Marshall.
"Cuttlefish use visual cues to determine arm postures for camouflage"

   Alexandra Barbosa1,2,†,
   Justine J. Allen2,3,†,
   Lydia M. Mäthger2 and
   Roger T. Hanlon2,*

File history
Click on a date/time to view the file as it appeared at that time.
(Latest | Earliest) View (newer 50) (older 50) (
20
|
50
|
100
|
250
|
500
)
(Latest | Earliest) View (newer 50) (older 50) (
20
|
50
|
100
|
250
|
500
)
File links
The following page links to this file: