Fall Syllabus Outline
(a detailed, evolving version is viewable at the SOS Media Drupal site)
First class meeting: Monday, September 25th, 9:30 am, Com 323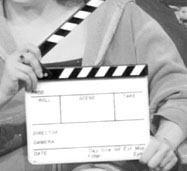 FALL WEEKLY SCHEDULE
Monday:
9:30-12:00 Com 323 Discussion and group work
1:00-2:30 Com 326 Screenings and work-in-progress critiques
Tuesday:
9:30-4:30 Com 326 Screenings and work-in-progress critiques
Com 408 Skill workshops and open lab time
ROUGH WEEK-BY-WEEK SCHEDULE:
Weeks 1-2: Introductions, develop production and research plans. Begin to organize quarter's activities.
Weeks 3-6: Various relevant skill workshops, student originated topic presentations, collaborative project work. Begin Work In Progress (WIP) critiques.
Weeks 7-8: Continue WIP critiques. Collaborative presentation/activity.
Weeks 9-10, and Eval week: Quarter assessment of progress and planning for winter.