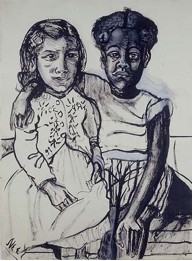 ©Alice Neel
Portraits, Fall 2009 and Winter 2010
Faculty: Marilyn Frasca Office: Com. 361 frascam@evergreen.edu
Sandie Nisbet Office: Com. 308B nisbets@evergreen.edu
Program Secretaries: Cindy Fry in Com. 302B; Carolyn Raines in Com. 303
Fall Schedule
Wednesday
9:00-12:00 Journal Session Com. 110
Thursday
9:00-12:00 Acting S.N. Com. 209; MF Drawing Lab Annex 2109
1:00 Work Study Groups and Conferences (Sandie Nisbet Com. 308B, Marilyn Frasca Com. 305)
Friday
9:00-12:00 Writing Portraits Com. 110
1:00-4:00 Symposium Com. 110
Portraits is a two quarter full time program for upper-division students who want to conceive, design, research, work on, complete, and present an individual or small group project that is a portrait.
Participants will be expected to attend all program activities, complete a wide variety of written assignments, and experiment with written, visual and performance approaches to the subject matter. Each student will present a self-portrait at the end of fall quarter, and a final portrait project individually or in a small group at end of winter quarter.
Credits: 16 per quarter Enrollment: 50 Internship Possibilities: No
Special Expenses: Cost of student's own "Portrait" projects and around $50.00 for workshop materials.
Required Drawing Supplies for first Drawing Workshop: due at first Thursday workshop. (Available at the TESC Bookstore)
18" x 24" Newsprint Pad
Pkg. Of jumbo black charcoal (3 sticks)
Pkg. Of vine charcoal
Mars Plastic Eraser
Small Blending Stump
Soft Charcoal Pencil
Soft Solid Graphite Pencil
Areas of study include topics in writing, psychology, and visual and performing arts
Requirements for Full Credit (Fall)
1. Full participation in all program activities (this means no absences unless documented with a written note from a doctor).
2. Be on time for all scheduled classes and events; lateness will not be tolerated.
3. Complete all assignments and participate in all program presentations and small group study meetings.
4. Attend an evaluation conference with faculty at the end of the quarter with a finished self-evaluation.
5. Partial credit or incompletes will not be available in this program. Students must earn full credit fall quarter in order to continue in the program.
Description for Fall quarter
Each Wednesday AM: we will begin the week with a three-hour guided journal writing session to aid students in developing their own life histories. This activity will include seeing and writing about the unique situations and events in our lives and the relationships we have now (and have had in the past) with people, with work, with society and with our own bodies. While we consider this writing private, students will be encouraged to use images and ideas gleaned from this work as a resource for their own creative projects.
Each Thursday AM: students will deepen their understanding of the program themes through skill-building workshops in drawing and acting. These workshops are designed for students to progress at their own levels, whether beginning or advanced. At the end of week four, students will switch to the other workshop, so each will experience four weeks of drawing and four weeks of acting.
Each Thursday PM: Work groups comprised of 4-5 students will meet for approximately 1.5 hours each Thursday. These groups will serve as discussion forum for individual assignments. These meetings are also an opportunity to further explore program themes, discuss program readings and screenings and investigate additional examples of portraits from other sources. A portfolio of weekly work will be kept by the student and will be presented to the faculty at the end of the quarter. Thursday PM will also be the time for individual conferences with faculty as needed.
Each Friday AM: "Writing Portraits" is the title of these writing sessions where scripting for plays/performance and creating short stories will be among the topics explored and practiced. Required reading must be done before class to prepare for our work together. In-class writing assignments, exercises, study group feedback, and brief presentations will be used to build writing & performance skills. Each student will complete a portrait in form of a short play or a short story by the end of the quarter.
Each Friday PM: In the weekly symposium that concludes each week, students will experience the work of professional writers, filmmakers and artists:
Week 1 10/02 Marilyn Frasca and Sandie Nisbet, artists
Week 2 10/09 Film: Alice Neel; Marilyn- Seeing workshop
Week 3 10/16 Rudy Martin, writer, historian
Week 4 10/23 Sean Williams, ethnomusicologist
Week 5 10/30 Cappy Thompson, international glass artist
Week 6 11/06 Students' Individual Research
Week 7 11/13 Student Presentations
Week 8 11/20 Lynda Barry, writer & cartoonist
11/23-11/27 THANKSGIVING BREAK
Week 9 12/04 Students' Self-Portrait Presentations (continued)
Week 10 12/11 Film: Anna Deavere Smith; Intro to 'Other' portraits