Main Page
From religionandsociety
RELIGION AND SOCIETY
Winter 2010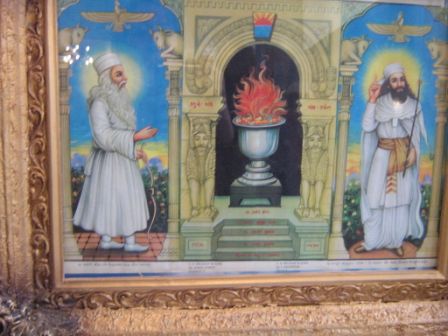 Fall/Winter 2009-2010
8/12 Credit Program, Evening and Weekend Studies
Faculty: Suzanne Simons, simonsc@evergreen.edu, X6710 and Stephen Beck, becks@evergreen.edu, X5488
CRN: 20159/202160
Program wiki page: www2.evergreen.edu/wikis/religionandsociety/
Meets: SEM II E1105, Wednesdays, 5:30-9:30 and every other Saturday, 10-5:30 (Jan. 9, 23, Feb. 6, 20, March 6)
12-credit section also meets: Tuesdays, 5:30-9:30, Sem II E2107.
Special expenses: $45 per student to participate in interfaith conference on the Israeli-Palestinian conflict, Seattle Feb. 20.

Link to the Program Covenant.
Link to Fall Quarter Schedule.

Fields of Study: Religious Studies, Media Studies, Philosophy (CR)
Note: This website is for both the 8-credit and the 12-credit options. Those parts of the syllabus that are for the 12-credit option are marked "(CR)".
The second of this two-quarter, writing-intensive program focuses on contemporary U.S. perspectives on religion, including how religion frames political and cultural issues within the U.S., and how religion shapes our comprehension of events around the world. Our guiding questions include what were the political and cultural forces that shaped religion in the U.S. during the course of our country's history? What are the similarities and differences between a secular nation and a religious one? What is the place of religion in public political discourse, in which not all citizens share religious beliefs? How does mass media influence the ways we think about religion, and the relationship between religion and politics?
Students enrolling in the 12-credit option will study techniques of critical reasoning, with a focus on rhetorical techniques of persuasion, both fallacious and valid, and their presence in media and popular writing about religion.
Students who successfully complete both quarters of the program will understand the development and the major tenets of several major religions, understand the roles of religions within historical and contemporary cultures, and be able to critically evaluate texts on religion as well as claims about the place of religion in public life. Major areas of study will include philosophy, religious studies, history and writing.
Specifically, we will examine:
The history of religion in the U.S., particularly tensions between "conservative" and "progressive" Christianity as played out in pulpits and politics from the country's founding to today.
Mass media coverage and representations of religion in mainstream, alternative, international and specialty publications, and the social, economic and political national and international issues often connected with it.
Contemporary intersections of religion, politics and culture through case studies in the Middle East, including the Palestinian-Israeli conflict.
Major class activities will include:
Service learning projects with local faith communities in order to deepen students' understanding of those communities and how their practices, beliefs and activities intersect with our program studies. Projects may include creating an enduring public record through writing and photography, depending on the needs and interests of faith communities and students.
Student-organized public forum on religion in wartime. Students in the program will plan, publicize and implement a community event with guest speakers on a theme relating to religion and society for the Evergreen and greater Olympia communities.
Winter Program Objectives
Demonstrate understanding of the development of several major religions
Demonstrate understanding of the roles of religions in historical context
Demonstrate understanding of the roles of religions in contemporary cultures
Be able to critique mass media coverage of religion
Demonstrate understanding on the difference among various types of mass media, their uses and audiences
Demonstrate critical evaluation of texts on religion
Be able to critically evaluate claims about the place of religion in contemporary issues
Be able to write college-level papers
(CR) Be able to identify fallacious reasoning in popular sources on religion
(CR) Be able to critique persuasive writing on religion with respect both to rhetorical effectiveness and rational strength
Required Readings

A History of God, Karen Armstrong
The Age of Reason, Thomas Paine
The Scarlet Letter, Nathanial Hawthorne
Head and Heart: American Christianities, Garry Wills
Quoting God: How Media Shape Ideas About Religion and Culture, Claire Badaracco (ed.)
The Many Faces of Political Islam: Religion and Politics in the Muslim World, Mohammed Ayoob
(CR) Logic and Contemporary Rhetoric, (11th edition), Nancy Cavender and Howard Kahane
(CR) One of the following texts, associated with "New Atheism":
God Is Not Great, Christopher Hitchens
The God Delusion, Richard Dawkins
The End of Faith, Sam Harris
Assignments
Community service project with a local faith community that you are not affiliated with
Weekly journal of community service work

Faith community paper and final presentation (3-4 pages)

History of religion in the U.S. paper (3-4 pages)

Media analysis of religion reporting paper (3-4 pages)

Participation in planning and implementation of student-organized religion and society public forum

Religion memoir (2-3 pages, students new to the program winter quarter only)

Response papers to required texts (1 page maximum)

(CR) Critical reasoning problem sets

(CR) Critical review essay (5+ pages)

College-Level Work
You are expected to do college-level work in all program activities. Specifically, this means:
The ability to read, understand, and then summarize texts

The ability to learn from texts through discussion with others

The ability to analyze and pursue writing assignments

The ability to write coherent, focused, correctly punctuated prose

The ability to develop and defend a thesis

The commitment to do all of the above reliably

Program Schedule
Note: Schedule subject to revision. Please check here for the latest version.
Week 1, 1/5-1/9
(CR) Tuesday, 1/5
Topics: Critical Reasoning Introduction
Review of Central Concepts of Formal Reasoning

Wednesday, 1/6
Theme: Introduction to Religion and Society

Activities:


Introductions and program overview

Lecture: The Historical Context of the Reformation (Stephen)

Student survey – do in class

Saturday,1/9
Theme: Introduction to Religion and Society

Readings:

Quoting God, foreword + pp. 1-36, 43-58, 79-99, 107-128, 193-200


Activities:


Faith community service orientation -- see Faith Community Service Learning Project Handout

Lecture: Religion Coverage in Mass Media (Suzanne)

Media Groups orientation -- see Media Workshop handout and the News Groups Assignment

Seminar, assigned readings

Public forum signup and planning

Work Due:

New students - Religion memoir and map (2-3 pages)
Response to assigned reading (1 page)
Week 2, 1/12-1/13
(CR) Tuesday, 1/12
Topic:Reasoning, Persuasion, and Rhetoric
Readings:

Kahane, ch. 1-3


Work Due: Problem sets
Wednesday, 1/13
Theme: Religion and Community

Readings:

Head and Heart, pp. 1-117;

The Scarlet Letter, through chapter X.


Activities:


Faith community service learning panel: Sister Monika Ellis, St. Placid Priory; Ellen Shortt-Sanchez, director, TESC Center for Community-Based Learning and Action, Rev. Howard Ullery, Lacey Community Church, TBA

Forum planning update – student committee

Seminar: Assigned readings


Work Due:

Response to assigned reading
Community service journal
Week 3, 1/19-1/23
(CR) Tuesday, 1/19
Topic: Fallacious Reasoning

Readings:

Kahane, ch. 4 & 5


Work Due: Problem sets
Wednesday,1/20
Theme: The Enlightenment and Religion

Readings:

The Scarlet Letter, to end;

Head and Heart, pp. 121-171.

Activities:


Public forum update – student planning committee

Community service check-in

Seminar: Assigned reading


Work Due:

Response to assigned reading
Community service journal

Saturday,1/23
Theme: The Enlightenment and Religion

Readings:

History of God, ch. 9;

Age of Reason, pp. 1-84;

Head and Heart, pp. 173-249 (recommended).


Activities:


Lecture: The Enlightenment and Religion (Stephen)
Seminar: Assigned reading


Work Due:

Response to assigned reading
Media journal

Week 4, 1/26-1/27
(CR) Tuesday, 1/26
Topic: Why Fallacies are Effective

Readings:

Cavender and Kahane, ch. 6

Work Due: Problem sets
Wednesday,1/27
Theme: Religion in the 19th Century

Readings:

Wills, Head and Heart, pp. 253-349


Activities:


History paper - small group presentations

Forum update –student planning committee

Film

Seminar: Assigned reading


Work Due:

Response to assigned reading
Community service journal
U.S religion history paper (See Guidelines) (3-5 pages)
Week 5, 2/2-2/6
(CR) Tuesday, 2/2
Readings:


Harris, The End of Faith, through ch. 3 OR

Hitchens, God Is Not Great, through c. 9 OR

Dawkins, The God Delusion, through ch. 5


Topic: The New Atheism: Workshop on Dawkins, Harris and Hitchens

Wednesday, 2/3
Theme: Culture Wars

Readings:

Head and Heart, pp. 353-396

Activities:


Lecture: Religion and Politics (Stephen)

Forum Update -- student planning committee
Faith community service check-in
Seminar: Assigned reading


Work Due:

Response to assigned reading
Faith community service journal -- see Worship Service Observation Guidelines

Saturday,2/6
Theme: Culture Wars

Readings:

Head and Heart, pp. 397-446

History of God, ch. 10


Activities:


Lecture: Religion and the Pacific Northwest (Suzanne)

Seminar: Assigned reading

Media group presentations

Program reflection/quiz

Mid-quarter conferences

Work Due:

Response to assigned reading

Media journal
Week 6, 2/9-2/10
(CR) Tuesday, 2/9
Readings:


Cavender and Kahane, ch. 7


Topic: Emotive and Cognitive Language

Wednesday, 2/10
Theme: Framing Conflicts

Readings:


Head and Heart, pp. 451-494 (495-552 recommended)

Quoting God, pp. 211-231.

Activities:


Lecture: Competing Media Frames: Israeli-Palestinian Conflict as Colonial Project or Religious Destiny? (Suzanne)

Forum update -- student planning committee
Faith community service check-in
Seminar: Assigned reading


Work Due:

Response to assigned reading

community service journal
Week 7, 2/16-2/20
(CR) Tuesday, 2/16
Readings:

Cavender and Kahane, ch. 11


Topic: Critical reasoning and analysis of news media

Wednesday,2/17
Theme: Religion in the Contemporary World

Readings:

Political Islam, in entirety

Activities:


Lecture: Political Islams' Many Voices (Suzanne)

Film -- Peace, Propaganda and the Promised Land

Forum update -- student planning committee
Seminar: Assigned readings


Work Due:

Response to assigned reading

community service journal
Saturday,2/20
Theme: Religion in the Contemporary World

Activities:

Sabeel Conference, Seattle. See Friends of Sabeel -- North America and Sabeel Seattle Conference
All-day field trip. $45 to be paid to student accounts; van drivers needed.


Work Due:

Conference reflection (written on site)

Week 8, 2/23-2/24
(CR) Tuesday, 2/23
Readings: Remainder of

Harris, The End of Faith OR

Hitchens, God Is Not Great OR

Dawkins, The God Delusion

Topic: Discussion of "New Atheism"

Work Due: Summary of main points
Wednesday, 2/24
Theme: Religion in the Media

Readings:

Quoting God, pp. 59-66, 233-245, 259-263


Activities:


Media analysis paper -- small group presentations

Forum update -- student planning committee

Program quiz and reflection
Seminar: Assigned reading


Work Due:

Media analysis paper (3-5 pages)
Community service journal
Response to assigned readings

Week 9, 3/2-3/6
(CR) Tuesday, 3/2
Readings:

Excerpts from two sources critical of Harris, Hitchens or Dawkins, plus | Karen Armstrong, "Think Again: God", along with | Sam Harris' reply, "The God Fraud"


Activities:

Video, debate between Hitchens and Boteach

Concurrent seminars on each text and critics

Work Due:

Summary of main points of critical sources
Wednesday, 3/3
Theme: Religion in War Time

Activities:


Religion and Society Community Forum -- Evergreen Longhouse


Work:

Students responsible for Longhouse setup, hosting and welcoming, distributing programs, and take-down
Community service journal
Saturday, 3/6
Activities:


Self-evaluation workshop

Faith community poster presentations and family potluck

Work Due:

Poster presentation with your field supervisor on your faith community work

Faith community paper (3-5 pages)

Week 10, 3/9-10
(CR) Tuesday, 3/9
Activities:

Presentations of critical review essays, in groups

Quiz


Work Due:
Wednesday, 3/10
Readings:

History of God, ch. 11

Activities:

Program de-brief

Seminar: Assigned readings

Work Due:

Response to assigned reading
Program portfolio with self-evaluation

Evaluation Week, 3/15-19
Activities
Self-evaluation critique groups

Evaluation conferences

Full credit for the program requires attendance at your evaluation conference. Your seminar faculty's evaluation of you will be based on your depth of understanding and progress as evident in papers, class portfolio and seminar participation.
Faculty evaluation (at time of final conference. May be given to faculty, or to EWS program secretary Sharon Wendt, Sem II B 2124)