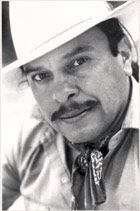 Daniel DeSiga
Daniel was born and raised in the State of Washington. As the child of migrant workers, he had to work in the fields to help his family. For this reason, he explains, the farm worker topic has always been present in most of the murals, oils, posters and many other works that he has done.
With a Bachelor of Fine Art Degree obtained from the University of Washington, DeSiga is among the most prominent Mexican-American painters in the Northwest. His artwork has been exhibited in many forums such as the Denver Art Museum, the San Francisco Museum of Modern Art and the Wight Art Gallery at the University of California in Los Angeles. His murals have also appeared in Shifra Goldman's Walls of Fire; his paintings in Prentice Hall Literature Grand Nine and Hispanic-American Literature and Art for Young People.
Daniel has painted about 20 murals; among them is the mural located at El Centro de la Raza, the Locks in Ballard, "Seagulls Fly in the Sky, in Rainier Valley, "The Olympic Mountains" in Lynwood and a series of murals that he painted for the Washington State Labor Department in various offices throughout the State.
Recently painted, "El Sarape," is a mural located in the city of Toppenish. With this mural, he says, he pays tribute to his cultural heritage . . .
—"Daniel DeSiga, The Artist," Latino Northwest Magazine, Vol. 3, No. 5, August-September 2001, p.16
Artworks | Resumé | Reviews | Contact Artist | Copyright Info