MARK HARRISON
The Evergreen State College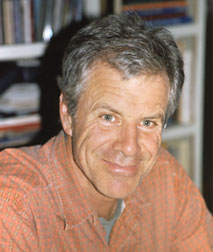 E-mail: harmark at evergreen dot edu
Office: SEM II - B3104
Telephone: (360) 867-6454
Office hours: by appointment

Program secretary: Sharon Wendt
wendts@evergreen.edu
(360) 867-6588

EDUCATION:
New York University
Ph.D. Performance Studies, 1989
Dissertation: New Vaudeville: Variety Artists
in the Contemporary American Theatre
Thesis Director: Dr. Brooks McNamara
University of California, Santa Barbara
M.A. Dramatic Art (acting/directing), 1975
B.A. English (music minor), 1972
TEACHING:
Mark Harrison joined the faculty in 2004 after six years as Head of the MFA Professional Directing Program at the University of Washington. In addition to supervising dozens of student-directed plays and fllm/video projects at UW, he directed Coriolanus , Measure for Measure , a new adaptation of Frank Wedekind's Spring Awakening, and the premiere of Going Through His Things by Steven Dietz. Mark also taught a wide range of courses in acting, directing, Shakespeare and other verse playwrights, as well as writing, acting and directing for the camera. His other teaching assignments over the past 20 years have included Smith College, the University of Texas, the Lincoln Center Institute in New York, and Universität Hamburg in Germany, where he was a visiting professor in American Studies.
PROFESSIONAL:
As a professional director and writer, Mark's work ranges from theatre and opera to film and television. New York directing credits include: a year as Resident Director of Playwrights Horizons, The Power Project (Antic Variations) in the NEXT WAVE Festival at the Brooklyn Academy of Music (which he also co-authored), and Ty Cobb at St. Clement's Theatre. Regional productions include: the premiere of Eric Overmyer's In A Pig's Valise at Center Stage in Baltimore, The Alchemist at the Empty Space and A Christmas Carol at ACT in Seattle, Hay Fever at the GeVa Theatre in Rochester, Rhinoceros at PCPA in Santa Maria, and Twelfth Night at the Colorado Shakespeare Festival. International credits include Love's Labour's Lost , which he directed in the Recklinghausen Ruhrfestspiele in Germany.
Mark has originated ideas for and directed two operas by composer Ronald Perera and librettist Constance Congdon: The Yellow Wallpaper , which premiered at the Manhattan School of Music in New York, and S. (based on the novel by John Updike) at the Mendenhall Center for the Performing Arts in Northampton, Massachusetts. In 2002, Mark directed the critically acclaimed New York premiere of The Seagull , an opera by Thomas Pasatieri and Kenward Elmslie (based on the Chekhov play), at the Manhattan School of Music.
Film credits: At Night the Sun Shines (co-authored with Guillermo Real), which premiered at the Director's Guild of America in Los Angeles and was featured in the LA International FilmFest at the American Film Institute, the Aspen and the Miami Film Festivals. Mark directed second unit photography for Fool's Fire by Julie Taymor, which was produced by American Playhouse for PBS and screened at the Sundance Festival. Other PBS credits include two years as a writer and producer for the New York affiliate, WNET, and Ty Cobb by William Packard, which he adapted from his stage production at St. Clement's Theatre. Mark is a member of the Society of Stage Directors and Choreographers.
On the home front, Mark has the good fortune to be married to Laura Worthen, an accomplished actress, educator and speech therapist. He is the proud father of two children - Finley and Nevin Bey. He and his family live in Seattle.