Home Page: Language & Law Academic Program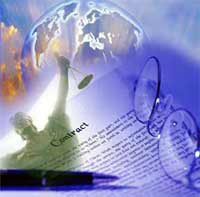 Welcome to the Winter Quarter of Language and Law!
PRESENTATION OF CREATIVE PROJECTS. As you are aware, during this last week of the quarter you will present a creative project in which you work with the themes of our program in a medium of your choice. Several weeks ago you received instructions for these projects.
FOR A SCHEDULE OF THE CREATIVE PROJECTS PRESENTATIONS, CLICK HERE. PLEASE NOTE THE POTLUCK FROM 3:00 TO 5:00 P.M. ON THURSDAY AT SUSAN'S HOME.
EVALUATIONS AND OTHER ACTIVITIES. As you should now be aware from the instructions that Susan gave in class on Tuesday morning, evaluation conferences will be on Friday of this week and Monday and Tuesday of next week (March 17 and 20-21). If you did not sign up for a conference, you should contact your faculty seminar leader immediately to do so. Remember that on Thursday of this week (March 16) you should bring a portfolio of your work for evaluation. You should include a self evaluation and a program evaluation. On Wednesday Susan and Jose will return any work not yet given back to you so that you can include it in your portfolio. For instructions regarding the evaluation process, see the following handouts: 1) Faculty Evaluation, 2) Program Evaluation and 3) Self Evaluation.
You should take your faculty evaluation (signed and dated) to your evaluation conference (unless you prefer to submit it to the program secretaries in Sem 2 - A2117). Your faculty will give you a draft of her/his evaluation of you. Your faculty will also give you feedback on your self evaluation. If necessary, you will make final changes to it. Then you must submit the final version (signed) directly to the Office of Registration and Records for inclusion in your transcript..
ANNOUNCEMENTS FOR WEEK 10. Click here for announcements from Holly, our academic advisor.