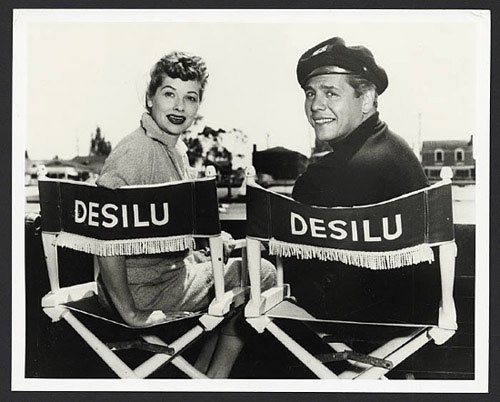 LEFT TO RIGHT: Lucille Ball and Desi Arnaz sitting on their own studio chairs
When you visualize a 1950s American family, an image of a happy husband and wife with cute children, standing in front of a white cookie-cutter house and white picket fence come to mind. Lucille Ball wound up wanting more than this and her husband Desi Arnaz wasn't going to deny her, even if it would end up destroying their marriage.
The American Dream has a lot to do with success: not failing or quitting, and not giving up until you get what your heart desires. What this idyllic image doesn't account for is greed, excess. What happens when you get more than what you originally wanted and you run with it? Self-destruction comes from a situation when you let an outside force or voice control your life, your heart.
It is ironic how their television series I Love Lucy was produced to save their marriage when by the end of the series, it became the catalyst for their divorce and saved thousands of other marriages. "How I Love Lucy was born? We decided that instead of divorce lawyers profiting from our mistakes, we'd profit from them." -Lucille Ball, 1952 (Sanders, and Gilbert 29) By the mid 1950s, I Love Lucy had become the television symbol of the American Dream/Family and brought tremendous success to Desi and Lucy. With success came the choice to expand their joint company, Desilu Productions, into a huge studio, or to end I Love Lucy and live a more leisurely life.
"In his autobiography, Arnaz recounted a conversation with Lucille at this juncture where he posed two directions for their future–ending I Love Lucy, investing its expected income of $3-$4 million, living comfortably on $150,000 yearly 'without touching the capital' and working, when they so chose, together or separately, at a more leisurely pace. The other option, Desi told his wife, was expanding Desilu Productions even more…Without hesitation, Lucille replied, 'I don't want to quit.' The decision, in retrospect, was perhaps the very moment where she traded her marriage for continuation of her career." (Sanders, and Gilbert 100)
Desilu Productions came into existence when they went on a vaudeville tour in 1950, the name coming together from their first names Desi + Lu(cy) that would bridge their professional lives. It was meant to prove and promote to America that a Cuban bandleader and redheaded white movie actress were not only married but funny, too. The tour proved extremely successful and CBS finally, after years of persistence on Lucy's part, offered them a television series together in 1951. "When I was going into my fourth month of pregnancy, CBS suddenly gave Desi the green light: they would finance a pilot for a domestic television show featuring the two of us as a married couple. A show that might go on the air that fall." (Ball 167)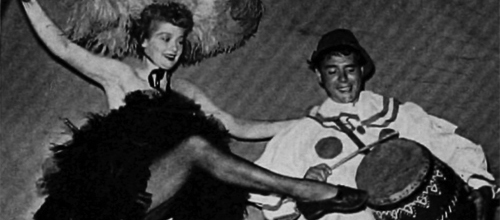 Desi and Lucy had been trying almost ten years to have a baby and after suffering multiple miscarriages years before, Lucy was finally pregnant again. Their dream for a long time had been to work together on a set and have children to build a family. Who says the universe gives you time to breathe? They got what they dreamed about all at the same time very quickly and initially couldn't decide if they were ready. Dearly departed movie actress and friend Carole Lombard then came to Lucy in a dream one night and told her, "Go on, kid. Give it a whirl." Lucy called her agent Don Sharpe the next day and said yes to CBS.
I Love Lucy is the television adaptation of the CBS radio show My Favorite Husband which also starred Lucy, but had Richard Denning playing the husband. The writers for this radio show were producer Jess Oppenheimer and head writing team Madelyn Pugh Davis and Bob Carroll Jr. They followed Lucy into the television series.
We held a brainstorming meeting at CBS Columbia Square, trying to come up with an acceptable premise for a TV series for Lucy and Desi…Then one day…I hit upon an idea…I turned to Harry Ackerman…and said 'Why don't we do a show about a middle-class working stiff who works very hard at his job as a bandleader, and likes nothing better than to come home at night and relax with his wife, who doesn't like staying at home and is dying to get into show business herself? (Oppenheimer 134,136)
The world now had Ricky and Lucy Ricardo, a reputable Cuban bandleader and his troublemaking stage-ambitious wife who would often put them into sticky situations. "At the very first story conference, Desi laid down the underlying principles of the show. The humor could never be mean or unkind. Neither Ricky or Lucy would ever flirt seriously with anyone else. Mothers-in-law would not be held up to ridicule. Most of all, Desi insisted on Ricky's manhood. He refused to be a nincompoop husband." (Ball 170)
It is interesting to think that Lucy ended up playing a role on television for Desi what in real life she could not carry out. "I knew that Desi wanted a wife who would play second fiddle to him, this was all right with me…I did everything in my power to advance his career, to bolster his confidence in himself…This was the way I had been brought up and this was what I wanted."  (Ball 112) Lucy carried this out by giving Desi the role of president of Desilu, to run the company, while she took the vice-president position. Despite her efforts however, she was always the star and he would have to learn to live with being in the shadows.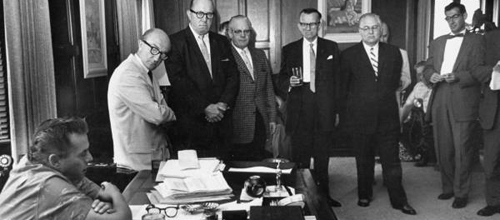 When the series was just about done with pre-production, a major snag came up. Television shows in those days were aired mostly live from New York. "At that time, almost all the big hit TV shows were done in New York because the biggest audience was on the East Coast. There was no coaxial cable, so the rest of the country saw a 'kinescope,' which was very poor quality." (Davis, Carroll Jr. 55)
Desi and Lucy refused to move and pushed for having the show filmed in Los Angeles. This kind of thing had never been done before. CBS, including the show sponsor Philip Biow, when presented with the new budget that had doubled, refused to pay the budget differences. This is how Desilu Productions ended up producing the show and owning all the film to the I Love Lucy episodes.
With Desilu having sole ownership, they were able to sell reruns of their show to affiliates desperate to fill their channels with something local audiences would turn their televisions on for. "Today, forty-eight years after its premiere, the price of broadcasting a single episode of "I Love Lucy" is $100,000. That's not much compared with what "Seinfeld" will get in syndication, but it's twenty times what Desi Arnaz paid for half the rights to all the episodes." (Gordon) CBS vastly underestimated the value of reruns and initially let a lot of money slip through their hands. "…no one…realized how profitable reruns could be. Columbia essentially surrendered the syndication rights of I Love Lucy to Desilu." (Baughman 132)
Syndication started when local stations working independently started making direct deals with producers. The networks pushed for live broadcasting because a station would have to be a network affiliate in order to have content to show their audiences. They would lose a lot of control and power over these stations if shows were filmed and stations did not have to negotiate with networks to telecast a program.
Having an innate sense for business despite inexperience in television production, Desi threw himself into learning how to become extremely cost-efficient with I Love Lucy productions. "The 39 episodes in I Love Lucy's first season, all told, came in only $9,500 over budget–at $24,750 per segment rather than the budgeted $24,000. This included Desilu's purchase of four 'crab dollies' to facilitate camera movement and two interlocked editing machines, all of which it would use for future production." (Thompson, Burns 124)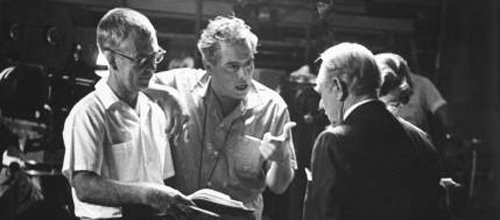 Desi, not Lucy, was the one who did a lot of experimenting to make productions possible for the show. "It was he who wanted to put the show on film. (Until then, "live" shows were preserved on kinescope, a rudimentary technique, which has the warmth and depth of an image traced on foil.) It was he who wanted to do the show in front of a live audience. And it was he who persuaded the great cinematographer Karl Freund to devise for the first time what Freund originally told him would be impossible: the simultaneous shooting of wide shots, medium shots and close-ups as the show was played out in full view of a live audience." (McGrath)
Time was very tight during those days (even now), and editing together three half-hour films in under a week was extremely stressful with just one editing machine, the moviola. The editor Dann Cahn and his assistant Bud Molin went to Mark Serrurier Jr., the inventor of the first moviola, for assistance and they came up with a three-headed editing machine. They fondly dubbed it "the three-headed monster". In modern times, we call it Final Cut Pro, AVID, or Adobe Premiere.
Having shot the original pilot on the CBS lot, Desi now had to find their own studio to remodel for the show's unique floor designs that also would have its own audience entrance. "…General Service Studios owner Jimmy Nasser contacted Al Simon and suggested that his eight-soundstage, seven-and-one-half acre Hollywood studio lot was the perfect filming site." (Sanders, and Gilbert 42) Desilu now had a home base and major reconstruction was made. "They knocked out a wall, laid a new floor, added bleachers for the audience, and began building sets for the first Ricardo apartment. Space was so tight that they decided the Ricardo bedroom would "double" (with different furnishings) for the Mertz living room." (Cahn)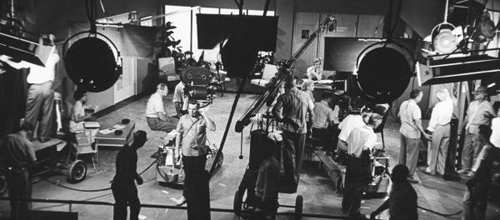 All the experiments paid off. "Premiering October 15, 1951, Lucy became the decade's biggest hit. It finished third in the 1951-52 Nielsen's, and first in 1952-53, when it earned an average 67.3 rating…Lucy again placed first in 1953-54 and 1954-1955, second in 1955-1956, just behind CBS's $64,000 Question, first again during its final season, 1956-1957." (Baughman 131)
It especially paid off with great situational comedy writing and Lucy's openness to perform physical comedy so long as it was funny. "…signs of her talent for physical comedy. If she was telling you a story about something that happened to her, she would act out all the various parts. It was wise not to sit next to her or she would use you as a prop." (Davis, Carroll Jr. 66) She became television's favorite comedienne eventually known worldwide for her talents in physical comedy. As a child and teenager in Hong Kong back in the 1960s, my dad watched all the syndicated reruns of the sitcom and to this day still finds it funny.
After the first season of I Love Lucy, Lucy became pregnant with her second child. Desi and Lucy went to producer Jess Oppenheimer afraid they would have to cancel the show because of it. In a spontaneous move on Oppenheimer's part, he congratulated them and said they would work it into the script that Lucy Ricardo was pregnant. This was the 1950s however and CBS with The Biow advertising agency outright said no. Desi fought with them to keep the pregnancy limited to only eight to ten episodes to do it right and got his way in the end. In result, television had its first family raising a kid from birth on the air.
Not only did Desi establish the sitcom and modern television format, but he also started smooth integration of commercial breaks. He tailored the advertiser's television ads to fit in with a show's aesthetic. "[Desi]…thought the commercial should be done as part of the show…laid in so there was no break in the music, there was no break in the picture. The music would bridge, the I Love Lucy orchestra would continue the score right onto the bridge and into the commercial…" (Sanders, and Gilbert 62) Everyone soon saw how good it looked and started coming to Desilu to help them produce the same kind of integration. Desilu made a huge profit from this experiment, becoming the industry standard and the go-to production company.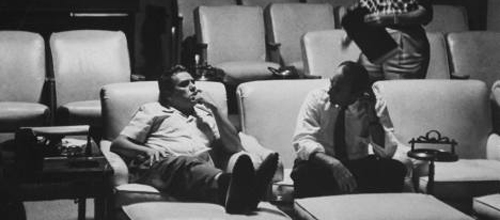 Desi, more than Lucy, ran their company. Everything was run very personally, based on trust and loyalty. If there was a problem, he would try to handle it in person. " 'Desilu Productions became a family,' once recalled Vivian Vance, 'and it stayed like that all the way through, two hundred people working for a common cause…' " (Sanders, and Gilbert 144)
"…Desilu was his baby, he felt he had to be on top of every deal. His eighteen-hour days were filled with big business squabbles, clashing personalities, and long hours of rehearsals. Business meetings went on far into the night, and he was generally up and on the telephone with New York by six or seven a.m." (Ball 203) This would later lead to a serious drinking problem around 1955 that would tarnish the studio's image, and his.
On set, there were conflicts, and a lot of those conflicts came from egos. Lucy notoriously tried to run her set like a dictator, often having fights with her directors and producers over the smallest of decisions and dictating other actors' performances. Bill Asher had this to comment about Lucy: "Being a young director, I knew what my function was. Lucy was getting the cast behind the sets and giving them readings and contradicting staging, and had a general kind of 'takeover' flavor." (Sanders, and Gilbert 63)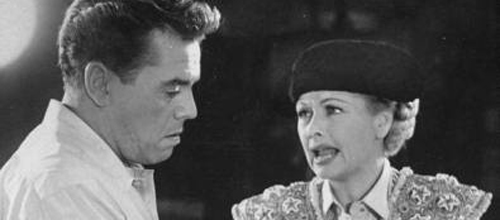 After a while, people realized she was constantly testing people because she needed strong people around that knew how to stand up to her and ultimately knew what they were doing. Lucy was a true perfectionist, questioning everything to see if it was exactly right. If you weren't up to her standards, she could tear down any actor or actress, even stars like Joan Crawford, Milton Berle and Jack Benny.
Desi and Lucy led a very volatile marriage. They first met in June 1940 when they were both contract players at RKO and were grabbing a bite to eat at the RKO commissary. Desi asked her out to a nightclub, and she accepted. It was pretty much love at first sight or as Lucy puts it, "I fell in love with Desi wham, bang! In five minutes." (Ball 95)
Desi is what many would call a riches-to-rags-to-riches story. He was born into a very distinguished Cuban family that had a very significant history in Cuba. Preceding the time of Cuba's 1933 revolution, his father had been the youngest mayor of Santiago, Cuba for ten years. Desi, then 16, and his mother had been staying by themselves in a family ranch one night when gunfire and shouts woke them up from outside. Their home was being burned and destroyed and they had to quickly escape. Desi had had everything up to this point. "At sixteen, Desi had his own speedboat and motorboat and three different homes. He had never faced a worry or a strain. He loved his life, and everyone loved him." (Ball 95) Everything the family owned was confiscated or destroyed and they were left with nothing.
The queen of Spain had appointed his great-grandfather the mayor of Santiago. Before that she had given his great-great grandfather Don Manuel I and his wife, Ventura, large parts of Southern California. (Ventura Boulevard and Arnaz Drive are named in their memory.) His maternal grandfather was a founder of Bacardi Rum. (McGrath)
After being released as a political prisoner in Cuba, his father relocated to Miami, Florida. Desi had a lot of readjusting to when he escaped to Miami to where his father had relocated to. "Desi was seventeen when he arrived penniless in Miami, with only the clothes on his back…When Desi saw his father—former major of Santiago, one of Cuba's biggest cities—chasing rats with a stick, he put his head in his hands and cried." (Ball 96) He worked very hard at making something of himself, taking any jobs that paid and getting good grades in school. He later became the breadwinner for his parents.
Desi would eventually work his way into fame through performing in nightclubs, then in musicals, and had started the conga dance craze in America. When he met Lucy, the both of them had been cast in the feature version of the musical Too Many Girls, which he had also starred in on Broadway. He was a notorious Latin lover. "Offstage he was dating film stars, stage stars, and all the leading debutantes…" (Ball 93) This would later become a common fight topic in his marriage to Lucy. It was not and still is not an uncommon situation in Latin culture for men to fool around and have mistresses.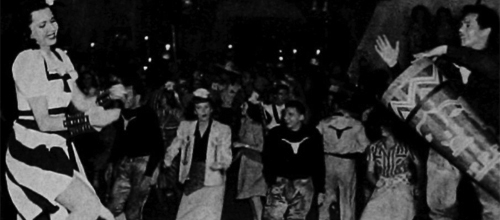 Lucy came from an East Coast household where her father died young. Her mother would often be missing, and she was raised by her Grandpa Hunt who became her father figure. "My step-grandparents had stern, old country ideas. They treated other children the way I wanted to be treated, but not me…It gave me a feeling of frustration and of reaching-out-and-trying-to-please. I found the quickest and easiest way to do that was to make people laugh." (Martin) She developed a deep-seeded inferiority complex in Jamestown, New York that only developed even more after she left. This would lead her to grow into a famous television comedienne.
Grandpa Hunt also had lost everything without any fault of his own, like Desi's father, and would be a primary motivator behind Lucy's search for stardom to support her family. Coincidentally, Grandpa Hunt was also the reason behind the investigation that was placed on her by the House Un-American Activities Committee in 1952 on whether or not she was a Communist. She had registered as one in 1936 as a favor to Grandpa Hunt, almost costing her I Love Lucy and putting hundreds of Desilu employees out of work.
[Desi] lived to enjoy life and never thought of tomorrow. I was a levelheaded realist who never lived beyond my means or went overboard drinking or gambling. Nevertheless, I was emotional and sentimental and romantic, too. I was an actress, wasn't I? (Ball 107)
They eloped together on November 30, 1940 after a very public courting. Due to Desi's show running at the Roxy in New York, it wouldn't be until a rainy day in March 1941 when they would find a permanent residence in Chatsworth in the San Fernando Valley. They built a home there calling it the Desilu Ranch and labeled everything they owned Desilu.
Both were temperamental, volatile, and stubborn, and at first such obstacles and spirited battles only acted as a powerful aphrodisiac, further intensifying their almost overpowering passion. His possessive nature prompted Desi to begin calling her "Lucy"–"I never liked 'Lucille,' " said Desi. "That name had been used by other men. 'Lucy' was mine alone. (Sanders, and Gilbert 17)
The first ten years of their marriage, Lucy was working on studio pictures while Desi traveled with his band all over the country. "Long-distance telephone calls between the two–which Lucille later estimated to cost more than $29,000 and mostly comprised of the shouted word "WHAT?" during bad phone conversations–contained equal mixtures of incredible longing and inflamed jealousy, each often accusing the other of rampant infidelity." (Sanders, and Gilbert 18)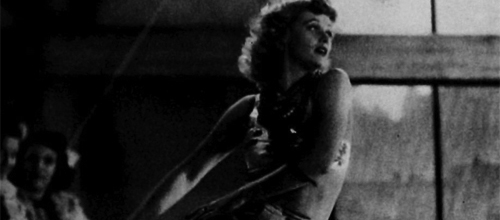 Before the CBS offer, Desi had spent most of 1948 and 1949 traveling and this became a huge fire in their marriage. Their desire for a family is what caused them to do I Love Lucy. They just wanted to have children and save their marriage. Who would have thought that this would only make matters worse? Here were two very independent people that lost their independence with their professional co-dependency.
Desi and Lucy wound up playing out their dream marriage through the eyes of an audience on a television show that was seen by tens of millions of people. In 1954, a decision that built up a major negative impact on their marriage was made. They decided to move. The twenty-five mile commute back and forth from their Chatsworth home to their Hollywood work was too time consuming.
Running the Desilu empire, performing in television and film, and raising two children with that much time wasted traveling became too much. The distance between their home and the studio became a serious safety issue when their children's lives were endangered by a kidnapping threat. The remote ranch location became unsafe and led them to move into a house next to Jack Benny near their studio.
Lucy and I had to say goodbye to our ranch in Chatsworth," Desi later wrote with lingering sadness at the memory. "It was not a happy moment. A whole new era began when we sold the Desilu ranchito. From now on we had to be practical. I hate the word and its meaning. (Sanders, and Gilbert 100)
Around this time, Desilu also found General Service Studios too small for the multiple television productions that were now shooting in its space for network television. It soon moved to the Motion Picture Center in Hollywood. "The rapid expansion of the Desilu empire began to gradually erode the intimate 'family atmosphere of Motion Picture Center, and with it came the inevitable departures of several Lucy staff members." (Sanders, and Gilbert 105)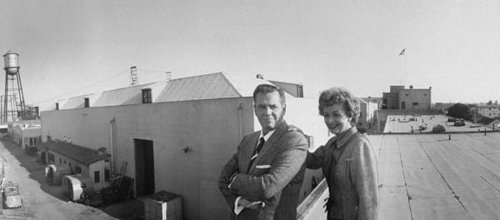 In 1957, Desi bought RKO Pictures by selling all the I Love Lucy film to CBS and now was running three studios. With each professional and personal property expansion, the less of a family their marriage and business became. Before I Love Lucy's success, Desi and Lucy had one home. After the show exploded and their business began producing other network shows, they ended up with three different home bases and three studio properties to run.
I think that one of the problems was that we were both working too hard and were together too much–all day and all night. Little arguments became big arguments. There was really no chance to be away from each other and let things cool off. It was really ironic…I had always been a drinking man. Lucy knew that…But now she was resenting it. As president of three studios and all that bullshit, I should be more dignified. (Sanders, and Gilbert 182)
Being an image, or a persona, is what really did Desi and Lucy in. Performing in front of three cameras and an average audience of 300-400 people requires embodying a mask, and the longer the performance the harder it can be to remember you have your own face and body. Not only did these two have a television persona to keep up with when they reached the pinnacle of their success, but they also had a professional image to maintain in the industry as well as a couple that had built and were running a huge studio. "Increasing Desilu pressures and marital discord did not erode the Arnazes's onscreen façade as a happily married couple." (Sanders, and Gilbert 166)  As the pressures continued with Desi running a studio with thirty-five soundstages, he was still able to retain his memory for everything that was going on inside his studio.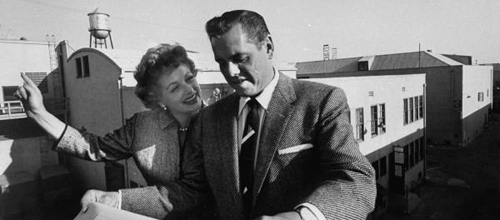 The company not only expanded in property but also in the amount of productions that were being filmed on their lot. Desilu Studios was producing over two hundred movies a year and dozens of television shows. Desi had been pushing CBS into allowing them to film bi-monthly one-hour Lucille Ball-Desi Arnaz shows within an anthology series format. He was finally given the green light for Westinghouse's Desilu Playhouse so long as he hosted and I Love Lucy went into hiatus in 1958 for two years.
Desi is the reason why Rod Serling's concept for The Twilight Zone became a CBS series. Bert Granet of Desilu was introduced to Rod Serling and had asked if he had written anything worthwhile. He had responded that CBS had just bought something of his and shelved it. Granet liked the spec script and bought it for ten thousand dollars from CBS. Westinghouse refused to sponsor but Desi supported the script and pushed for it to be featured in Desilu Playhouse. This is how The Twilight Zone was picked up by CBS again and developed into a series.
As the projects increased, Desi's self-destruction did too. He began to rely on alcohol to get him through the days and his decisions were slowly becoming more dictated by it. He lost a lot of self-control when it came to gambling and his visits to whorehouses and began making the papers with his escapades. This put a huge strain on their marriage. Their image and the one of the studio only became worse during this time.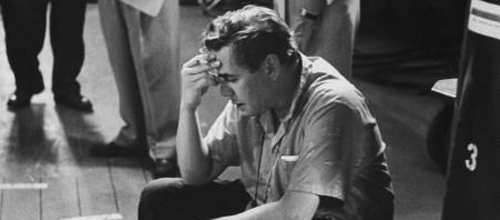 By the time the series finale was finally filmed for I Love Lucy in 1960, Desi and Lucy would sign their divorce papers the day after. In 1962, Lucy bought Desi out from the company and became the first woman to run a studio. She had never wanted to be an executive but didn't want to be the reason behind thousands of people losing their jobs. She kept the studio afloat by churning out spin-off Lucy shows for CBS and using the cash allowances from CBS to develop pilots.
It is from these pilot cash allowances, Desilu financed the expensive productions of Star Trek and Mission: Impossible. These two shows wouldn't exist without the studio. Their individual careers however never fully recovered and in 1967, Lucy sold Desilu to CBS's parent company Gulf + Western. At the time of purchase, Desilu had six television hits on the air: The Lucy Show, Star Trek, Mission: Impossible, I Spy, Mannix, and The Andy Griffith Show.
To think this all started out when two people just wanted to have a family and live out their dream of working together and having children. They could never have predicted their show would take off the way it did and the rest of the world wound up having their dream. Success only destroyed their marriage, their family, and ultimately themselves.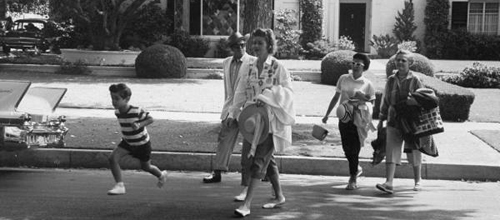 –
[most photo credits] Copyright of Time Magazine