Summer 2007 listings will be available in April (links to class offerings inactive until then)
Chernobyl and Ukraine summer 2007!
June 25-July 29 | Orientation Meeting Tues., April 10, 4:30-6:00 pm
Learn firsthand about the environment, history and culture of Ukraine through this exceptional study abroad program. During two weeks in Kyiv, students will explore the impact of the 1986 Chernobyl nuclear power plant explosion, and its implications for the future of nuclear power.
Download the brochure (PDF)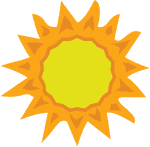 Whether you are already a student working toward your degree or you want to explore something new, summer is a great time to study at Evergreen. Learn from the finest faculty and from talented summer visitors who bring outstanding knowledge and experience to the classroom.
As you plan your summer studies, you have many options. Evergreen's summer curriculum is organized within planning units — groups of faculty with like interests who teach related courses and programs. You may decide to enroll in one course that runs for the full ten-week session, or one or two intensive courses that run for five weeks each.
Have an educational adventure with summer study at The Evergreen State College!