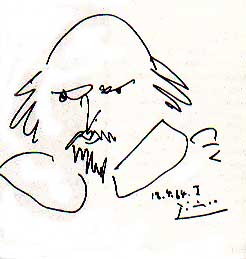 Shakespeare, Body & Soul
TESC spring quarter 2004, Mondays & Wednesdays 6 to 9:30 p.m.PLUS theatre field trip Sunday April 25th
8 quarter hour credits; Class meets in Seminar II bldg. Room E1105
Faculty: Marla Beth Elliott
Performance Assignments:
Sonnets: you will join a small group to perform a linked set of sonnets. Use both Linklater's and Barton's work to analyze the sonnet for both sound and meaning and to prepare your performance. Your sonnet should be memorized, but you may use a prompter and/or cue sheet. Your group may freely design, costume, and stage your sonnet presentation. Analysis of the verse in your sonnet should be included in your portfolio.
A Midsummer Night's Dream: we will perform this play as a staged reading; no memorization required. Students will select their own roles rather than auditioning. Any role may be played by any student regardless of age, gender, race, body type, etc. Some roles may be shared by two actors. We will present this play outdoors on campus during week 9 for each other and our invited audience; this performance will not be advertised to the general public. Each student will be responsible for his or her own costuming. TESC costume stock is available for checkout.