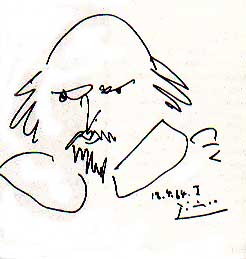 Shakespeare, Body & Soul
TESC spring quarter 2004, Mondays & Wednesdays 6 to 9:30 p.m.PLUS theatre field trip Sunday April 25th
8 quarter hour credits; Class meets in Seminar II bldg. Room E1105
Faculty: Marla Beth Elliott
Writing Assignments:
Stories: Remember and write a story from your own experience that is keyed by the text, interpreting Shakespeare by means of your own life. Each story should be about three pages long.
Autobiography of your Midsummer character: write three pages describing your character in A Midsummer Night's Dream in the first person (e.g., "My name is Mustardseed…"). Respond to the following questions: Who am I? What do I want? What do I do to get what I want? Other useful questions may be: What do I stand for? Am I who I want to be? If not, why not? What do I believe I evoke/provoke in others? How do I make my way in the world? Seek active verbs--things you can do--in responding to these questions. You may imaginatively invent any information you need that is not provided in the text, but all such invention must be consistent with the text. Be sure to speak of your character as he/she would speak of him/herself, not as others would.