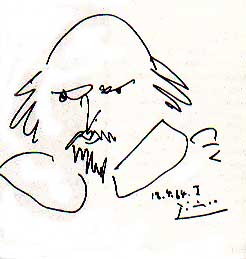 Shakespeare, Body & Soul
TESC spring quarter 2004, Mondays & Wednesdays 6 to 9:30 p.m.PLUS theatre field trip Sunday April 25th
8 quarter hour credits; Class meets in Seminar II bldg. Room E1105
Faculty: Marla Beth Elliott
Sunday, April 25th, 2 p.m.: A Midsummer Night's Dream
Location: Seattle Shakespeare Company, Center House Theater, Seattle Center. http://www.seattleshakes.org/
Getting your ticket: tickets are $15 each and have been assessed as a student fee for the program. You must pay this fee to student accounts by Friday, April 2nd. Faculty will pick up the tickets at the box office and distribute to the students immediately before the performance.
Getting there: We have reserved college vans that will leave the TESC bus circle at 11:30 a.m., leaving us time to have lunch at the Seattle Center before the 2 p.m. show. The vans will leave to return to Olympia right after the show. Please let Marla know if you're willing to drive one of the vans. If you choose to take a personal vehicle, we strongly encourage carpooling.
About the production: This interpretation of Midsummer sets it in a high school in the 1950's and makes prolific use of rock 'n roll music from the period.
What if I want to take a friend?: contact Lorri Moore at TESC Ext. 6867, LIB 3234 during business hours and purchase your additional tickets from her for $15 each. Only Evergreen students, faculty, and staff may ride in the college vans.
Wednesday, May 12th, 8 p.m: Hamlet
Location: Harlequin Productions, State Theater, 202 4th Avenue East, Olympia (corner of 4th and Washington downtown). http://www.harlequinproductions.org/
Getting your ticket: This is their "Pay What You Can" evening. You will need to purchase your own ticket. Tickets go on sale at noon in the box office. Pay what you can. Only two tickets will be sold per person in person. Please arrive early. Latecomers will not be admitted and seats are not reserved.
Getting there: You are responsible for transporting yourself to this theatre in downtown Olympia. We will not meet as a class on campus that evening. Buses from campus can easily get you downtown. However, the performance may run later than the latest returning bus; check transit schedules and make your own plans.
About the production: This should be a relatively "straight" production featuring their frequent special guest artist Andrew Heffernan as Hamlet.
What if I want to take a friend?: No problem. See "getting your ticket" above.